Welcome to Gundog Central
Where the Bird is the Word!!
Gundog Central is a centralized location for finding your next Gun Dog, Bird Dog or Field Dog. We've tried to make it as easy as possible for you to browse the many different hunting dogs for sale. We cater to the upland bird hunter and wetland waterfowl enthusiast, as well as people who compete in field trial events.
Whether you're looking for pointer breeds like the English Pointers, English Setters or French Brittany's, Retrievers like the Labradors Retrievers, Flushing breeds like the English Springer Spaniel, or Versatile breeds like the German Shorthaired Pointers and German Wirehaired Pointers you'll find them here, along with many other hunting dog breeds. You'll find gun dogs in our classified section that are for sale by individuals and professionals alike. Only ads dealing with working gun dogs, bird dogs or field dogs should be posted here.
We're dedicated to making this the best site to find your next hunting dog. Dog trader or kennel, listing your hunting dog for sale is easy and FREE. To get started advertising your dogs, all you need to do is create a FREE account
Current News and Announcements
Send us your news and we'll post it on the site
Over payment scam examples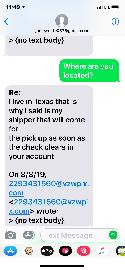 Don't be a victim of online over-payment scams: It was a scam [email protected] was 1st contact

[ Details ]
Featured Breed of the Week : Irish Setter
The Irish Setter is a breed of gun dog that is said to have originated in Ireland, hence the name Irish Setter and have been around for many years. This dog is known for its beautiful coat that is waterproof and ready for any type of the weather. Depending on the dog, the coat can range in color from a dark brown to a reddish color and may have some feathering on certain areas on the body. The coat itself is one of the known characteristics of the Irish Setters due to the beautiful colors, texture, and length of it. When it comes to their build, these dogs have a broader chest area and leaner pelvic area. This allows them to be fast runners and agile movers. The are known to move at fast speeds, effortlessly. The females of the breed weigh in around 53-64 pounds and stand at 22 to 24 inches while the males are 60-71 pounds and are around 23-26 inches tall. When it comes to their diet, they may eat anywhere between 2 to 3 cups of food per day. This will depend on the age of the actual dog and their own individual needs. It is recommended to stay away from processed foods and to make sure your dog is consuming healthy ingredients. As far as maintenance, they do need to be groomed regularly. Due their thick coats, they are subjective to matting. A regular weekly or even daily brushing will help keep their coats looking and feeling healthy. They also have nails that grow fairly fast and will need to be trimmed atleast every few weeks.Teeth brushing is also a part of their maintenance regime. Their teeth will need to be brushed at least two to three times per week, to prevent any build-up. Bathing can be done occasionally and eyes and ears need to be checked regularly. Because they are a very active breed of dog, they do require a lot of exercise, usually at least a hour per day. Furthermore, with their high metabolism, they are well suited for active owners who will be outdoors with them and allow them to take part in regular activities.

[ Details ]
Featured Gun Dog Ad of the Day
Featured Bird Dog of the day. Ad created by BLAKE & CHERYL STEPHENSON. #gundogcentral #birddogs #birdhunting #upland #gundogs #sportdog #fielddog #dogsofgundogcentral #GermanShorthairedPointer
[ Details ]