Gundog Central Reload : Videos!!!
Go back to current news
Written by Jeff Davis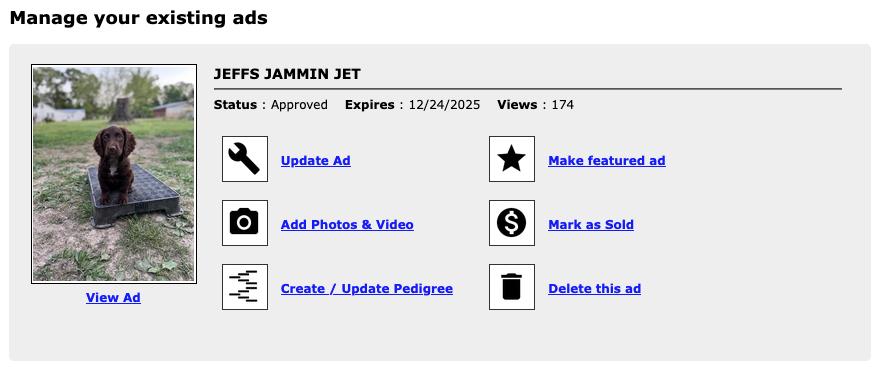 You can now add videos to your classified ads, but only if you have a premium account or an upgraded premium ad. The videos files that you upload can be just about any modern format, but for compatibility, we will need to convert your files to a streaming format, for this reason your videos won't show up with your ad right away. Because video files can be rather large, they will count against your picture total, so if your account or ad is limited to 12 photos, it will now be a limited to a combination of 12 photos or videos.

We've also changed out the file uploader, you can now upload multiply files at one time, but only after your ad as been placed. Please allow all the files to upload before browsing off of the upload page. You will still be limited to uploading one photo when you first create your ad. To add multiply photos, go to Manage ads, Manage Existing Dog ads and click on ADD PHOTOS & VIDEO.

We've added the ability to DEFAULT which photo or video you want to display with your ad. In the past if you had uploaded a video, the site would always show the video, regardless of priority, now you can choose to default either a photo or a video. Videos will only show on your ad page, not when viewing all ads, so make sure you upload at least one phone as well.

We've removed the VIDEO field from the Create Classified page, because it was not be used correctly. If you posted a link to a youtube video in the field but did not use the Youtube embed code, it would only show the text, not the video and prevent your photos from showing.