Pie Day
All Hunting Articles
Written by Danny Bardwell
Visit :
Visit authors website
Toward the end of each month, Mother made pies, usually five or six. We kept one The others were delivered and given to various people in the community, the sick or shut ins or sometimes just a friend Mother hadn't seen in a while. I wasn't particularly fond of pie day. It wasn't because it meant me knocking on doors and handing the pies out, it was because of the hugs and cheek pinches all the old women felt obliged to give in return. Just before Thanksgiving and the opening day of quail season in 1964, pie day took on a very different meaning.

We had delivered four pies that day. Mother drove cautiously, constantly admonishing, "don't let those pies slip, keep them covered, Lane! Hold that pie!!" I had never lost one in all the trips we made but she fully expected one to hit the floorboard at any moment. Mother was that way. Cautious to a fault, but there never lived a more charitable person. "You give because you have. It's what you're supposed to do." If I heard that one time, I heard it a thousand. We had one pie left.

"Mama, why don't we bring this last one to Mr. Kuhn?" Mr. Kuhn was the most ungrateful man in Amite County.

The first and only other time we tried to give him a pie, he ran us off. "Didn't order no pie, don't want no pie! Now skedaddle!"

Mother laughed at me that day. "Can't help some folks," she said, "But I'm helping you." It would be years before I knew what she meant. I sat back into the car, cradling pie, and looking bewildered. She laughed more, and louder. We ate two pies that week.

"Mr. Kuhn!?" Mother exclaimed. "Are you serious?"
"Yes ma'am. "I want to ask him something."
"Well ok, but don't be surprised when he runs you off again."

What I hadn't told Mother was that I had recently learned that Mr. Kuhn used to train bird dogs. Kent told me that when Buck ran off on a deer trail the week before. "Marshall Kuhn," he said, "was the best man alive at breaking a dog from running deer." Kent continued, "but that cantankerous old coot wouldn't lift a finger to help anyone."

"Why?" I asked.

"Nobody knows. He quit dogs and people one day and ain't never opened up again. Just went hermit."
There was just enough spit in me that particular pie day to face the old man. I answered Mother. "He might run me off, but he's going to get this pie."

Mother eased the car down the overgrown trail leading to Marshall Kuhn's ramshackle of a house. She was going to keep the engine running, fully expecting to leave in a rush, I'm sure. "You can kill the engine, I might be a while," I said as I opened the car door and lifted the pie with both hands. I continued to hold the pie and shut the door behind me with a push from my foot. I made my way to the porch and stepped over a set of rotten steps onto a narrow pathway meandering through a pile of discarded junk that was strewn end to end of the porch. Old dry rotten saddles and bridles we're covered in dust. Tire rims and a jack were lying in a pool of oil that had leaked from a Quaker State can. A dozen or more dog collars hung lifelessly on several posts.

Littered across what would be the front yard, were coffee grounds from many mornings. The scene was an image of neglect and surrender. Nothing said welcome.

I held the pie with one hand and knocked on the door with the other. "Mister Kuhn? Mister Kuhn? Anyone home?" I knocked again and stepped back away from the door should he answered. He did.
"Didn't order no pie, don't want no pie." He remembered.

"Mister Kuhn," I began. "I know you didn't order a pie, but my mother made it for you and I'm going to leave it here. You can eat it or throw it out there on those coffee grounds, but I'm going to leave it here for you."

"Um," he grunted and reached for the pie.

"Something else I want to ask you." I nervously said. The courage I thought I had didn't appear as quick or stay as long as I suspected it would.

"Um," he answered in a questioning tone.

"I want to know, sir, how to break a bird dog from running deer. I heard you were the best."

"Hahaha," he laughed. "You got to tie him to a goat?"

"A goat?" I answered.

"Hahaha," he laughed, "that's what I said, now skedaddle." He backed into the room and shut the door.

A week later, on opening day, Mr. Reed wasn't pleased at all when Buck ran off behind another deer. Mr. Reed had bragged on Buck, and was embarrassed in front of the banker friends he had invited to his annual Red Oak quail hunt.

Everyone laughed, except Mr Reed. He scowled at me from where he sat on the hunting wagon. I knew that meant for me to catch Buck and don't ever let that happen again.

I told Kent about Mr. Kuhn and the goat and Buck running off with a deer. Kent laughed. "Well, I guess we'll have to find a goat." Kent said.
On an afternoon the following week when I arrived to clean the kennels and feed up, there was a big billy goat tied to the stable gate. He was red and white like Tonto's pony. He had horns that curved down and whiskers too.

I led him to Buck's kennel and put him in with Buck. Neither one liked it. Buck barked and Billy butted. Buck barked again and snapped, so Billy kicked. It was a glancing blow, but it was enough to gain Buck's respect. Buck hated Billy and I'm sure the feeling was mutual. Apparently Buck not only hated Billy, but also hated the smell of Billy. The two stayed kenneled together all winter and Buck never ran another deer.

Marshall once told me, "The trick to training a dog is, he can't suspect you're trying to train him. He's got to think he figured it out all by himself." That was one of the first things I learned from the recluse Mr. Kuhn.

Over the next two years, Mother and I brought him many pies. With each delivery I brought a question. I would ask, "How can I cure a gun-shy dog? How do you stop a dog from stealing point? What's the best way to teach a dog to retrieve?" They were all answered, and well answered. By the following fall Marshall Kuhn was being seen more around the community and by the second year after the first pie, he was working part time helping Kent with the dogs. I never did question Marshall about what drove him to be a recluse. Mother said it wasn't any of my business if he didn't tell me. I didn't reply but, I though, that's right, it's just my business to give because I have. I figured that out all by myself.


About the Author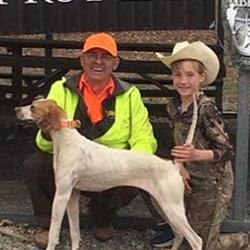 Danny Bardwell
Visit authors website
Danny Bardwell is a construction superintendent who builds large commercial buildings in the Baton Rouge / New Orleans area. For peace of mind and escape from the stress of building, Danny raises and trains pointers with his thirteen year old grandson, Lane.

Danny is a story teller at heart, and often when relaxing he is inspired by some little event or phrase. Lane appears in most of Danny's stories. His stories have appeared in local publication as well as national circulations such as Sporting Classics Magazine.
About the Artist
Kate Hall
Visit artist website
Kate Hall is an outdoor artist who resides on an Angus cattle farm in Tennessee, where she began hunting at an early age. During her 13 years as a flight attendant, Kate visited 27 countries and all 50 states. She now spends her time traveling across the country in search of rising trout and upland birds with her husband and their English Setter. In his first two seasons they hunted on public lands in MT, KS, SC, AL, NC, KY and TN for quail, ruffed grouse, sharptail grouse, woodcock, pheasant, prairie chickens, and hungarian partridge. Upland hunting has enriched Kate's life and influences much of her colored pencil work.