Featured Contributors
Gundog Central is privileged to have these renowned authors, writers and artist contributing their work to this site. I am honored to have them on here, sharing their knowledge and expertise with the online bird dog hunting community that visit this site.
Tom Word
Visit authors website
|
View Articles
Tom Word is a lawyer who represents individuals about managing their assets and for amusement writes fiction and non-fiction about bird dogs and humans obsessed with them.
Tom Keer
Visit authors website
|
View Articles
Tom Keer owns The Keer Group, an outdoor marketing company which works perfectly with his freelance writing career. He casts his four English setters in Northeast upland coverts and Southern quail fields with fortunate regularity. Hes been lucky to be surrounded by people and dogs that are much smarter than him. Visit him at www.thekeergroup.com or at www.tomkeer.com
Shawn Wayment, DVM
Visit authors website
|
View Articles
Shawn knew at the early age of seven that he was afflicted with an obsession for bird dogs and horses; he knew then, that he wanted to become a veterinarian. After bouncing on his head one too many times as a parachuting medic with the 82nd Airborne Division, he decided to go to veterinary school. He realized his dream in 1997 by graduating from Washington State University and went into mixed animal practice. Currently Shawn has a companion animal practice in Castle Rock, Colorado. His special interest is in the veterinary care of sporting dogs and, specifically, in canine anatomy/physiology, reproduction and dentistry. In the fall, around the edges of his practice, he can be found roaming the uplands of North America chasing his cover-dog English setters. Shawn has a passion for chasing scaled quail on the shortgrass prairie with classic American doubles and pointing dogs.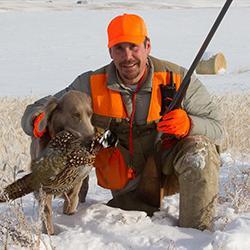 Craig Koshyk
Visit authors website
|
View Articles
Craig Koshyk is a dog nut. He is also a writer, photographer, artist, educator and entrepreneur. But mainly hes a dog nut.

When hes not carrying a shotgun or camera in the field, he is putting pen to paper. His book Pointing Dogs Volume One: The Continentals is considered by many to be the reference book on the continental breeds of pointing dogs. His articles and photos of sporting dogs appear regularly in North American and European magazines and his Pointing Dog Blog has garnered a large following of loyal readers. Craig is currently working on Pointing Dogs Volume Two: The British and Irish Breeds scheduled for release in 2020.

Purchase Craigs books here : Dogwilling Publications
Scott Linden
Visit authors website
|
View Articles
Scott is the creator and host of Wingshooting USA television series, the most-watched upland hunting series in the U.S. He is also a popular seminar presenter, and blogger at outdoorlife.com and scottlindenoutdoors.com. Scotts book What the Dogs Taught Me was released in June, 2013 from Skyhorse Publishing of New York. His book Fun Family Outdoor Ideas was published in 2000.

Scotts byline has been seen many times in Field & Stream, Outdoor Life, Quail Forever, Shooting Sportsman, Pointing Dog Journal, Gun Dog, Versatile Hunting Dog, Quail Forever, Pheasants Forever and Sports Afield magazines. He is a frequent guest on television and radio talk shows, designs dog care and training gear, consults with apparel and equipment manufacturers on product development, and serves as a technical advisor and stock footage supplier to network TV and feature-film productions
Paul Fuller
Visit authors website
|
View Articles
Paul Fuller is host of Bird Dogs Afield TV. The show is available on his website birddogsafield.com and his YouTube Channel [youtube.com/birddogsafield]. Bird Dogs Afield has 3.3 million views on YouTube. Paul and Susan, his wife, travel across America and Canadian provinces to film and share their upland hunting experiences with like-minded sportsmen. He has published the iconic DVD series titled Grouse, Guns & Dogs and most recently, his new book titled 21st Century Pointing Dog Training. Paul loves all bird dogs, however, his personal choice is the German shorthaired pointer. Paul can be reached at [email protected].
Edgar Castillo
Visit authors website
|
View Articles
Edgar Castillo is a recently retired law enforcement officer for a large Kansas City metropolitan agency. He also served in the United States Marine Corps.

Born in Guatemala, hunting was a new concept when Edgar came to the U.S. His passion lies in the uplands as he travels across public lands throughout Kansas or wherever the dirt road takes him…to hunt open fields, walk treelines, & bust through plum thickets in search of wild birds in wild places.

This fervid emotion for the uplands has since blossomed into a SIGNIFICANT social media presence. It has allowed Edgar to share his experiences and connect with other bird hunters through writing.

Follow Edgar's upland escapades on Instagram at @hunt_birdz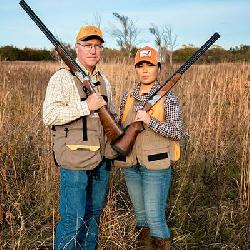 Jenny and Rick Wheatley
Visit authors website
Jenny and Rick Wheatley both grew up in Southern California and connected over a shared love of the outdoors. They started their wild game cooking blog Food for Hunters in 2011, where they share recipes, photos and thoughts on wild food. Today, Jenny and Rick continue to hunt, fish, forage and cook in the Cornhusker State of Nebraska. Their recipes have appeared in numerous publications, including Petersens Hunting, Game and Fish, Nebraskaland and North American Whitetail magazines.

The Nebraska Center for the Book awarded their book Hunting for Food: Guide to Harvesting, Field Dressing and Cooking Wild Game the Wildlife Honor Award in 2016.
Leah Brigham
Visit authors website
After graduating from Millersville University of Pennsylvania with a Bachelors of Science in Art Education, Leah began teaching Art to inner city Middle School students in Houston and later Dallas, TX. Leah has shared with her students her passion for art and nature. This passion has sustained her and continued throughout her life in the form of painting and drawing.

Leah was introduced to American Field Horseback Field Trails and has been able to experience the excitement of seeing her own dog, competing for the National Championship at Ames Plantation in Grand Junction, TN ...standing on point, head and tail held high. This has inspired her to create works of art depicting dogs and the wildlife associated with the sport and hunting.
Shawn Swearingen
Visit authors website
|
View Articles
Born and raised throughout the forests and farms of Oregon. The 9-5 work life led him to the D.C. area in 2008 a few short years after college at Oregon State. Writing about the outdoors is one of the ways he is able to cope with living in the suburbs of Northern Virginia. He is also callmaking, wingshooting, gardening, fishing, and introducing his two young sons with his wife to the great outdoors in hopes to do as well as his parents were able. He is a regular contributor for Split Reed and Mossy Oak, as well as being published by Free Range American, Tom Beckbe's Field Journal and Dirtbag Magazine.
IG: @shawn_swearingen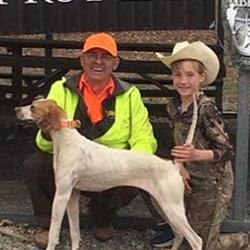 Danny Bardwell
Visit authors website
|
View Articles
Danny Bardwell is a construction superintendent who builds large commercial buildings in the Baton Rouge / New Orleans area. For peace of mind and escape from the stress of building, Danny raises and trains pointers with his thirteen year old grandson, Lane.

Danny is a story teller at heart, and often when relaxing he is inspired by some little event or phrase. Lane appears in most of Danny's stories. His stories have appeared in local publication as well as national circulations such as Sporting Classics Magazine.
Kevin Erdmier
Visit authors website
|
View Articles
Kevin owns Southern Pine Kennel in Blackshear, GA, where he offers a full range of dog training services. They have indoor and outdoor kennels facilities and are state licensed. He is a certified dog trainer and fully insured. Kevin is an avid hunter, mostly wing shooting dove, duck, geese, quail, and turkey. He typically hunts in Georgia, Florida, Arkansas, and Missouri. In 2016, he opened Southern Pine Kennel after training his own dogs for years. His program is designed for hunters that want to bring a well-mannered and trained dog into the field.

In 2017, he retired from U.S. Homeland Security after 26 years of Law Enforcement. His last duty was to the Federal Law Enforcement Training Center as a Firearms Instructor. For the last 10 years he has trained Federal, State and Local Law Enforcement in handguns, shotguns, and rifles. Students were taught proper safety, weapons handling, nomenclature, proper maintenance, and proper marksmanship. He continues to teach firearms to individuals in his community and contractually for Homeland Security

He is currently a Pro Staff member for Retay Shotguns. He is also with Heybo, Dakota Kennels and National Pro Staff. You can find him regularly posting about his dogs on Instagram and Facebook as @southern_pine_kennel.

Gunner Hall
Visit authors website
|
View Articles
Gunner is a writer based in Savannah, GA. He is an outdoor enthusiast and an avid bird hunter. He is a member of numerous conservation organizations. He currently sits on the boards The Georgia Outdoor Writers Association and The Georgia Chapter of Backcountry Hunters & Anglers. He also holds multiple certifications in wine and spirits. Follow his adventures in the swamps and woods of South Georgia on Instagram @gunnerhall
Dr. Abe Woodard
Visit authors website
|
View Articles
Dr. Abe Woodard is a Range and Wildlife Scientist at the East Foundation in Hebbronville, Texas. His research focuses on population ecology and sustainable management of game species, with a primary focus on upland game birds. Abe has a B.S. in Wildlife and Fisheries from Rio Grande University, an M.S. in Wildlife Science from Texas A&M University, and a Ph.D. in Wildlife Science from Texas A&M - Kingsville, where he investigated the effects of harvest on northern bobwhite populations. Abe had 10 years of experience managing wildlife and hunting enterprises on private lands prior to returning to grad school in Kingsville. He spent 6 years on King Ranch as a Wildlife Biologist for Halliburton's Mota Bonita Lodge, a year in the smokey mountains of western Virginia as Natural Resource Manager, and 3 years working for Deseret Ranches, first as a Wildlife Biologist in Florida and then as a Natural Resource Manager covering ranches in Oklahoma, Kansas, Nebraska, and Texas.
Ross B. Young
Visit authors website
A lifelong hunter and fisherman, Young knows the adrenaline rush of a covey rise, the smell of dawn as ducks cup into the decoys and the thrill of a trout rising to a well-placed fly. Personal experiences like these add authenticity to his paintings and invite the viewer to relive his/her own outdoor adventures.
Kate Hall
Visit authors website
Kate Hall is an outdoor artist who resides on an Angus cattle farm in Tennessee, where she began hunting at an early age. During her 13 years as a flight attendant, Kate visited 27 countries and all 50 states. She now spends her time traveling across the country in search of rising trout and upland birds with her husband and their English Setter. In his first two seasons they hunted on public lands in MT, KS, SC, AL, NC, KY and TN for quail, ruffed grouse, sharptail grouse, woodcock, pheasant, prairie chickens, and hungarian partridge. Upland hunting has enriched Kate's life and influences much of her colored pencil work.
Chris Ingram
Visit authors website
|
View Articles
Chris Ingram is a freelance outdoor writer and photographer where he lives in Vermont with his wife and spends his time chasing dogs, feathers, fur and the next captivating gun dog story. He hopes to utilize his passion and enthusiasm for hunting and gun dogs to strengthen and unite the sporting community through sharing information, creating opportunity and delivering thoughtful content. To learn more about Chris and his work, check out Featherwind Creative on social media and visit www.featherwindcreative.com
Michael R Thompson
Visit authors website
|
View Articles
Michael R Thompson is a freelance writer/photographer/artist as well as a custom knife maker living in the Bitterroot valley. To view his work and follow along on his outdoor adventures go to www.uplandart.com or follow @Upland_ish on instagram
Keith Farmer
Visit authors website
|
View Articles
I started training about thirty years ago. Sounds like a long time...yet, 30 years seems like just yesterday. I started with a German shorthair. I didn't know much other than I wanted a bird dog and shorthairs are cool. After several good dogs including some outstanding setters I discovered the world of retrievers via a close friend and mentor. He had retrievers that did stuff I had never observed before...they were obedient, listened to his directives like a child does a parent, and were generally cool dogs to be around. I decided to get a retriever and train it myself.

Once I got hooked in the retriever world I purchased a better bred dog and put it with a professional for both the dog's training and mine. I learned a lot...some good stuff, and some bad junk I have had to unlearn over the years.

After titling my first retriever at the Master Hunter level I agreed to take in client dogs and become a professional myself. Now some several hundred trained dogs, numerous titles, numerous trial wins and placements, numerous specialty event wins, and several successful litters of pups I still have the same passion for the dogs as ever.

I took a hiatus for a few years recently and reclaimed my amateur status in order to dedicate time to family, and to become a field trial judge. I judged at every level of the game from derby to all age. I am now back training professionally with my daughter helping me starting pups, and having aspirations of running her own up and coming derby candidate. We have a great time doing what we love with animals that give us everything they have.
Brian Lynn
Visit authors website
|
View Articles
Brian Lynn has enjoyed a career in the outdoors industry for more than two decades, including as senior editor and gundogs editor at ESPNOutdoors.com and Outdoor Life magazine. Currently he defends hunting, fishing and trapping trapping from the animal-rights movement as the vice president of marketing and communications at Sportsmens Alliance
Bob Ford
Visit authors website
|
View Articles
Bob Ford has lived all but three years of his life in the hills of Pennsylvania. The three exile years were spent attending seminary at The Methodist Theological School in Ohio where he lamented the lack of topography that characterizes the central portion of the Buckeye state. He purchased his first beagle for $75 in 1985 with money earned delivering the Erie Sunday Times. This first beagle committed Ford to the company of hounds, and has resulted in a life that has gone to the dogs.

Bob has hunted rabbits and hare throughout the country, ranging from Northern Alabama to the Quebec border, and he is always looking for new places to hunt and new species of rabbits and hare for his hounds to pursue. He is an ordained pastor in the Susquehanna Conference of The United Methodist Church and currently resides in State College, PA. Ford believes that American-made, double barrel,16 gauge shotguns from the previous century are the best firearms available to the small game hunter, and that few things compare to the sound of a pack of beagles chasing rabbits on morning dew in a foggy valley. He writes a monthly column for the American Beagler, Better Beagling, and Hounds and Hunting. Bob is an active member of the Outdoor Writers Association of America, The Association of Great Lakes Outdoor Writers, and the Pennsylvania Outdoor Writers Association. He has won Excellence in Craft awards for humor and hunting.
Chris Yielding
Visit authors website
Chris is a high school teacher in Arkansas, and trains retrievers on the side. He has been training as a side job for nearly a decade, training for clients all across the south. He also enjoys writing articles about training, as well as other outdoor activities. He has been published in many local and regional publications.

Backwater Cypress Retrievers LLC;

Backwater Cypress Retrievers Facebook page