DUAL QUALITY GSPS ON THE WAY!!
All Hunting Dogs | Versatiles | German Shorthaired Pointer | Litter Annoucement
1040 Views - Posted : 02/07/2020 - Updated : 02/07/2020 - Voted for : (1) times
IDAHO HUNTING DOGS
Kennel Account - Premium Account
BLAKE & CHERYL STEPHENSON
SHELLEY, IDAHO 83274
UNITED STATES
Phone #: 208-681-6127
Idaho Hunting Dogs is proud to announce a dual quality litter of German Shorthaired Pointers. We have a couple deposits is all on this litter, so you can have a good selection spot.

Roscoe is a nice male with awesome style. He is put together very well. Roscoe is a direct son of DC, VC, 2nd RU 2013 National WGDC Gambles Sam Man MH, VCX, UT PR I RDI. Sams father is HOF DC AFC 3x NSTRA CH Gambles Odyssey Fritz MH RD VCX UT Prize II. Other dogs to mention: DC/AFC Sam Saint Max MH, 3x NSTRA Ch Gambles Low Country Miss, DC/AFC Kuzhaars Ruger V Haven SH, DC Oddysseys Saint Blitz MH, DC Hillhavens Hustler, NSTRA CH Gretta Garbo Gamble MH plus so many other accomplished dogs. Roscoe is an amazing young dog, that real once in a lifetime animal. He was an impressive pup right out of the gate! We feel Roscoe got his parents field ability and conformation. Roscoe is a bird-finding machine in the field and a true lover in the house.

Liesel is our first Deutsch Kurzhaar out of Kalins Kennel. She is a super young dog!! This is a real nice pup out of several titled dogs. They are bred for NATURAL ABILITY and CONFORMATION. She is registered with the DK as well as Amercian Kennel Club and Canadian Kennel Club. She is from superior German lines, making them some of the best in world. Along with the drive and desire to work comes the calmness and mannerly dogs you want to have around the house. Quiet in the house, they get along with people and children well, as well as other pets Check out her pedigree at http://www.idahohuntingdogs.com/LieselPedigree.html and you will see why we are so excited to breed to this girl!

Give us a call or email us for more information.

Cheryl Stephenson
208-681-6127
[email protected]
www.IdahoHuntingDogs.com #gundogs #gundogcentral #huntingdogs #sportdog #fielddog #dogsofgundogcentral #germanshorthairedpointer #versatile #puppiesforsale #liverwroan #forsale #gundogsforsale #huntingdogsforsale #featured #female #ihd -samsfreiheitsirroscoeman #clausvomkalins #shelley #id #loyalldogfood #loyallforlife #versatiles #litterannoucement #ihd -samsfreiheitsirroscoeman
I have known Cheryl for 9 years now and not only is she the best breeder I know, taking care of her puppies until the owner picks them up, but she continues to check in and help you even after you take your puppy home.

We have two of Cheryls puppies. Rocky (Fritz x Duchess) who will be 9 this year and Jiggs (this orange boy pictured -Roscoe x Meg) who will be a year in just a couple of weeks.

Cheryl has always just been a phone call away for any needs that have come up, questions and concerns. Her yard and home has always been clean and the puppies are so well cared for prior to going to their forever homes.

Cheryl takes lots of pictures and videos from the time they are born and also does live video feeds. Rocky and Jiggs are both phenomenal hunters and family dogs. A long as Cheryl is breeding Ill be buying from her.

Thanks Cheryl for all you do!
---
Cheryl has been in business over 25 years and it shows in her passion for German Shorthair pointers and her professional business practices. She leaves no stones unturned when giving her clients the information needed when making the decision to add a GSP puppy to their family. Her dogs are top notch quality and she stands by her commitment to deliver the very best to each client. She retains the first right of refusal on all her pups and recently took back a 10 year old GSP from her kennel and placed her with a great family. Cheryl is very selective concerning new puppy clients and remains available to help with all stages of her GSP's lives. It goes without saying that I highly recommend Cheryl and Idaho Hunting Dogs for anyone interested in adding a GSP puppy to their home.
---
I have known Cheryl of IDAHO HUNTING DOGS for almost 15 years now. She had been recommended as a quality breeder of German Shorthairs and I remain ever grateful that I met her. We have gotten 2 Shorthairs from her and I have learned so much about the breed from her as well.

I can attest to the fact that Cheryl has a quality breeding program, that the care her dogs receive is of the highest quality (from pups born in her kennel to her retured senior dogs) and that her dogs (and the pups that come from them) are not only good hunting dogs, but are also good family dogs.

Cheryl also maintains regular contact with those who purchase dogs from her (through phone calls, e-mails and the IDAHO HUNTING DOGS Facebook group). She loves following her dogs and is a quick resource for advice and recommendations should a new owner have any questions or concerns.

I highly recommend IDAHO HUNTING DOGS to anyone looking for a quality German Shorthaired Pointer as a hunting dog, a family dog or a personal companion.
---
I have been around Cheryl at Idaho Hunting Dogs for 30 years. She takes excellent care of her dogs as well as raising their puppies in the house. If you are looking for a quality breeder, you cant go wrong!
---
* Disclaimer - No kennel, breeder, individual or dog found on this site is associated with Gundog Central in any way, unless otherwise stated. Gundog Central provides the space to advertise these dogs only. It is the sellers responsibility to describe their dogs in an honest and accurate manner. It's the buyers responsibility to verify this information before purchasing a dog found on this site. Money order scams are a common problem when selling your dogs online. Do not accept money orders or over payments. If you do accept a money order, never send real money back to the individual that sent it, as these money orders are most often fake and won't be covered by your bank.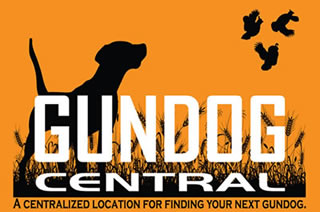 GUNDOG CENTRAL - HUNTING DOGS FOR SALE
Gun dogs, Bird Dogs, Field Dogs, Sporting Dogs ... and now Hound dogs
Account Details
Welcome back