NFC/NGDC/FC SIRED PUPS
All Hunting Dogs | Versatiles | German Wirehaired Pointer | Puppies for Sale
1205 Views - Posted : 03/11/2021 - Updated : 04/14/2021 - Voted for : (0) times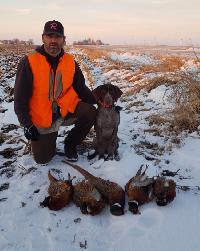 MIDWEST GUN DOGS
Kennel Account - Premium Account
KEITH BERGER
121 CHERRY ST.
HALE, MISSOURI 64643
UNITED STATES
Phone #: 6605652309
Alternate Phone : 6607526118
[email protected]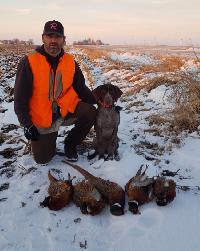 NFC/NGDC/FC Brillows Big Wild Western X Bergers Zoey Bell

Wileys accomplishments speak for themselves. He is a National Gun Dog Champion, 1 hour stake and only GWP to win it (so far), NFC=National Field Champion, beat all other competing GWP for National title 2013, DC= Dual Champion, he has his AKC conformation (show) championship and field championship.
His mother is a 2x NFC, one of his sisters is a 2x NAFC (National Amateur Field Champion) and another won the National Field Futurity.
Wiley has all health clearances....eyes,hips, elbows, thyroid, and cardiac.

Zoey is a machine in the upland field. She has a strong prey drive. She has a lot of energy and hunts non stop searching for birds. She is extremely fast in the upland field and covers a lot of ground. Zoey has a nice solid point with minimal training. She is simply a natural hunter. Crossed with Wiley this should be a very nice breeding. Zoeys hips are OFA good. Pups from previous litters have been excellent. References available.
Now accepting deposits. Males $1200, Females $1300 call/text 660-752-6118
www.midwestgundogs.com/ #gundogs #gundogcentral #huntingdogs #sportdog #fielddog #dogsofgundogcentral #loyalldogfood #loyallforlife #germanwirehairedpointer #versatiles #puppiesforsale #brownroanwpatches #forsale #gundogsforsale #huntingdogsforsale #featured #nfc /ngdc/fcbrillowsbigwildwestern #bergerszoeybell #hale #missouri
View Pedigree

---

FC RLBS JACKSONMAN
BRILLOWS JACKSON FLYER
WEST IN BRILLOWS GRETA
NFC/NGDC/FC BRILLOWS BIG WILD WESTERN
FC WILDWIRES COWBOY JH
NFC/FC BRILLOWS WILD WEST SHOW
FC BIG OAKS GEORGIA PEACH
VONGOBBEL WORMEISTER
VONGOBBEL GMAN
VONGOBBEL LUGNUT
Bergers Zoey Bell
CEDAR BREAKS MOSSBERG
PIPPA ROONEY DRECKMEIER
CEDAR BREAKS LITTLE MISSY
User Reviews

Write a Testimonial
Zero reviews submited so far. Be the first to write a review this individual

---
No testimonals given at this time.
* Disclaimer - No kennel, breeder, individual or dog found on this site is associated with Gundog Central in any way, unless otherwise stated. Gundog Central provides the space to advertise these dogs only. It is the sellers responsibility to describe their dogs in an honest and accurate manner. It's the buyers responsibility to verify this information before purchasing a dog found on this site. Money order scams are a common problem when selling your dogs online. Do not accept money orders or over payments. If you do accept a money order, never send real money back to the individual that sent it, as these money orders are most often fake and won't be covered by your bank.