GERMAN WIREHAIR POINTER PUP
All Hunting Dogs | Versatile | German Wirehaired Pointer | Puppies for Sale
1422 Views - Posted : 09/27/2019 - Updated : 11/07/2019 - Voted for : (1) times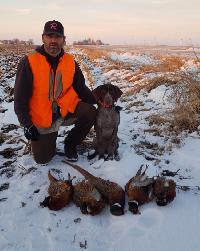 MIDWEST GUN DOGS
Kennel Account - Premium Account
KEITH BERGER
121 CHERRY ST.
HALE, MO 64643
Phone #: 660-565-2309
Alternate Phone : 660-752-6118
[email protected]
Member since: 12/13/2013
Location: MO


UPCOMING LITTER - GERMAN WIREHAIR POINTER PUP

Litter of 10 males whelped 10/9/19. Beautiful pups. Gravy is a grandson of Salty Pete and Cascade Jager Freund. He is the direct son of 3X NSTRA ch UT prize II 197 Fancy Feather Salty Foote. He's a full brother to Sterndogs Norton Salty Jean Bean the most decorated wirehair in NSTRA history. He has superb coat, correct bite, hips OFAd excellent, and thyroid OFAd normal. Gravy excels with pheasants and tough weather. He ran in 4 NSTRA trials in the spring of 2016. He qualified to run in the mid-north regional and ended up being the 2nd RU out of 32 dogs.

Zoey has been by far the best upland hunting dog I have owned. She has a super strong prey drive. She hunts extremely hard and has zero quit in her whatsoever. Zoey has a nice solid point with very little training. She is simply a natural hunter. Crossed with Gravy this should be a very nice breeding. Zoeys hips are OFA good. Pups will be ready for new homes the last week of November.
Now accepting deposits.
call/text 660-752-6118
www.midwestgundogs.com/ #gundogs #gundogcentral #huntingdogs #sportdog #fielddog #dogsofgundogcentral #loyalldogfood #loyallforlife #germanwirehairedpointer #versatile #puppiesforsale #liverroan #forsale #gundogsforsale #huntingdogsforsale #featured #nortonsfancygravy #bergerszoeybell #hale #mo

---
To post a reply please log in
* Disclaimer - No kennel, breeder, individual or dog found on this site is associated with Gundog Central in any way, unless otherwise stated. Gundog Central provides the space to advertise these dogs only. It is the sellers responsibility to describe their dogs in an honest and accurate manner. It's the buyers responsibility to verify this information before purchasing a dog found on this site. Money order scams are a common problem when selling your dogs online. Do not accept money orders or over payments. If you do accept a money order, never send real money back to the individual that sent it, as these money orders are most often fake and won't be covered by your bank.
User Reviews

Write a Testimonial
Zero reviews submited so far. Be the first to write a review this individual

---
No records found