D LITTER VOM WüSTENJäGER
All Hunting Dogs | Versatiles | Deutsch Kurzhaar | Litter Annoucement
2084 Views - Posted : 03/13/2019 - Updated : 03/17/2019 - Voted for : (2) times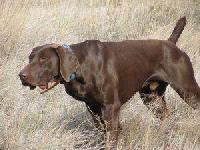 VOM WüSTENJäAGER DEUTSCH KURZHAARS
Kennel Account - Premium Account
WAYNE & LISA DAVIS
83002 W. OLD INLAND EMPIRE HWY
PROSSER, WA 99350


This is a beautiful pairing in ability, conformation, and temperament. We are pleased to announce this much anticipated breeding of Cora and Xam (Call name Django). Pups are doing well and anticipated whelp date is 3/21 - 3/22. Cora is an extremely calm natured shorthair who has the on switch in the field. Her primary use with us has been birds and rabbits. She excels in the water on ducks and would no doubt do excellent in the duck blind. Cora has passed her AZP Prize 1 and is working towards her VGP this fall.

Django is most predominantely used for preditor game and schutzhund work. He is a highly accomplished versitile dog having completed his testing in the US and Germany accomplishing a VGP1 (313 pts) in Germany.

Both dogs have been tested with HD Frei (A1 and B1 respectively) and both have been rated V (Excellent) in conformation.

We anticipate highly accomplished puppies from this pairing who are a joy to live with and hunt behind.

Our sole purpose of this breeding is to keep a pup for ourselves. We do not breed unless we feel the dog has a lot to bring to the plate as a hunting and home companion. And we want a pup from the breeding.

For More Information Visit: www.vomwustenjager.com Or call Lisa Davis 509-778-1794 or Wayne 509-778-1198.
* Disclaimer - No kennel, breeder, individual or dog found on this site is associated with Gundog Central in any way, unless otherwise stated. Gundog Central provides the space to advertise these dogs only. It is the sellers responsibility to describe their dogs in an honest and accurate manner. It's the buyers responsibility to verify this information before purchasing a dog found on this site. Money order scams are a common problem when selling your dogs online. Do not accept money orders or over payments. If you do accept a money order, never send real money back to the individual that sent it, as these money orders are most often fake and won't be covered by your bank.
User Reviews

Write a Testimonial
Zero reviews submited so far. Be the first to write a review this individual

---
No records found