ENGLISH COCKER SPANIEL MALE PUP
All Hunting Dogs | Flushers | English Cocker Spaniel | Puppies for Sale
3727 Views - Posted : 02/12/2019 - Updated : 04/19/2019 - Voted for : (2) times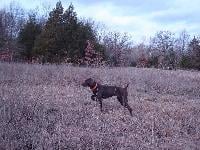 DEAD BROOK GUN DOGS
Kennel Account - Premium Account
DWIGHT EARLS
1755 N. 4290 RD.
GRANT, OK 74738
Phone #: 281-433-9400
[email protected]
Member since: 07/07/2014
Location: OK


ENGLISH COCKER SPANIEL MALE PUP

Field Bread English Cocker Spaniel Male Black and white starting to retrieving and obedience . He is out of some great Champion Pedigree on his top and bottom side . He will make a great pet or hunting companion . DOB-9-10-18 . UTD on all shots and wormed . I'm asking 1500
281-433-9400 in Hugo Oklahoma

---
To post a reply please log in
* Disclaimer - No kennel, breeder, individual or dog found on this site is associated with Gundog Central in any way, unless otherwise stated. Gundog Central provides the space to advertise these dogs only. It is the sellers responsibility to describe their dogs in an honest and accurate manner. It's the buyers responsibility to verify this information before purchasing a dog found on this site. Money order scams are a common problem when selling your dogs online. Do not accept money orders or over payments. If you do accept a money order, never send real money back to the individual that sent it, as these money orders are most often fake and won't be covered by your bank.
User Reviews

Write a Testimonial
Zero reviews submited so far. Be the first to write a review this individual

---
No records found