REPEAT YELLOW-FOX RED LITTER DUE FEB 26.
All Hunting Dogs | Retrievers | Labrador Retriever | Puppies for Sale
270 Views - Posted : 02/19/2020 - Updated : 03/04/2020 - Voted for : (1) times
BIRD DOG LABS LLC
Kennel Account - Premium Account
GINA GLIDDEN
BEMIDJI, MINNESOTA 56601
UNITED STATES
Phone #: 218-368-1175
[email protected]
We loved it so much we did it again! Exceptional repeat breeding of all yellow/fox red litter!

Born February 22nd and will be ready April 18th.

This is a proven cross that produces the total package! Great in the field and home. Bred for intelligence, natural ability, health, great temperament and excellent looks! Excellent proven pedigree that is hard to find today! It doesnt contain Snapper, Cosmo or Grady!


AKC Breeder of Merit and Bred with H.E.A.R.T. Breeder.

All of our puppies are born and raised in our home. We have a comprehensive puppy program to give them a great start. This includes early neurological stimulation, early scent introduction, daily individual handling, proper introduction to wings, crates, car rides, gunfire from a distance, obstacles, adventure walks in different environments and much more. Our puppies have dew claws removed, are dewormed x3, have 1st round of vaccinations, vet checked, individual health certificate. 30 month hip/eye warranty and lifetime guarantee to never be affected by 15 different genetic diseases.

Both parents are proven in the field (field trial/hunt test titled) and live in the home as part of our family. Both are extensively health tested and official clearances can be verified on the OFA website and Paw Print Genetics Pedigree Database.

Sire: Riparian Ghostrider QA2 Nick
Son of FC AFC Riparian Roughrider and a daughter of FC AFC Corderstone Wizard of Oz. Exceptional old blood pedigree! Nick is an active field trial dog and currently has his Open win and Amateur win, 2nd, 3rd, 4th and Jam. He needs 5 points for his FC and 4.5 points for his AFC. Super sweet dog that also lives in the house. 80 pound male.

Dam: Birddogs Riparian Remington MH
Remi is a 3rd generation of our foundation line. She not only is master titled, but is also an excellent and versatile hunting dog that is perfect in the home. She has always had a strong natural on/off switch
OFA hips good, OFA elbows, eyes and cardiac normal.
She is tested clear of everything on the Essential and Supplemental panels (15 genetic dieseases) and is also tested clear of CMS. 78 pounds!

Puppies will be ready the end of April when they turn 8 weeks. Shipping may be available if needed.

License #: MN577935 #gundogs #gundogcentral #huntingdogs #sportdog #fielddog #dogsofgundogcentral #loyalldogfood #loyallforlife #labradorretriever #retrievers #puppiesforsale #yellow #forsale #gundogsforsale #huntingdogsforsale #riparianghostriderqaa #birddogsriparianremingtonmh #bemidji #minnesota
User Reviews

Write a Testimonial
Zero reviews submited so far. Be the first to write a review this individual

---
No testimonals given at this time.
* Disclaimer - No kennel, breeder, individual or dog found on this site is associated with Gundog Central in any way, unless otherwise stated. Gundog Central provides the space to advertise these dogs only. It is the sellers responsibility to describe their dogs in an honest and accurate manner. It's the buyers responsibility to verify this information before purchasing a dog found on this site. Money order scams are a common problem when selling your dogs online. Do not accept money orders or over payments. If you do accept a money order, never send real money back to the individual that sent it, as these money orders are most often fake and won't be covered by your bank.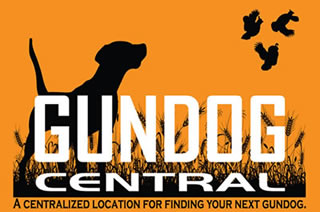 GUNDOG CENTRAL - HUNTING DOGS FOR SALE
Gun dogs, Bird Dogs, Field Dogs, Sporting Dogs ... and now Hound dogs