AKC CHOCOLATE LAB PUPPIES
All Hunting Dogs | Retrievers | Labrador Retriever | Puppies for Sale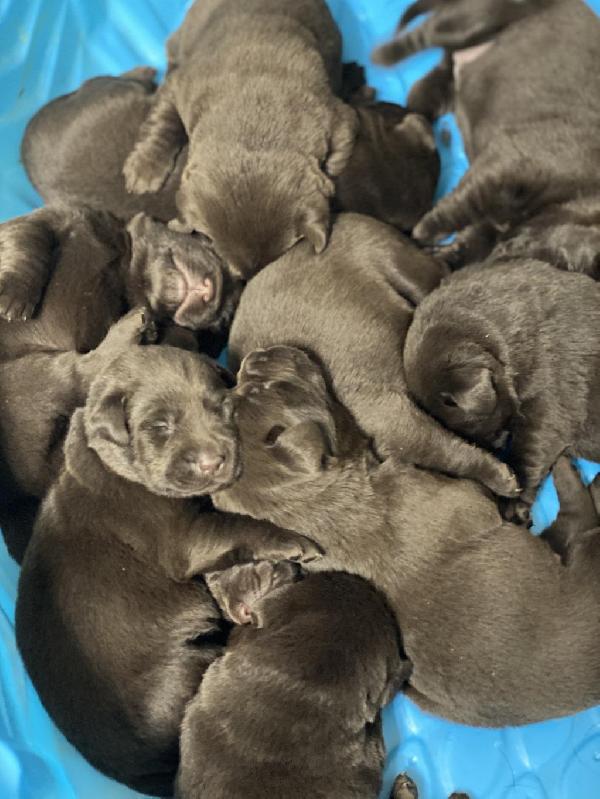 314 Views - Posted : 07/12/2020 - Updated : 07/13/2020 - Voted for : (0) times

Individual Account
TRISHA WUEBBELS
203 DEVONSHIRE DR.
BARTELSO, ILLINOIS 62218
UNITED STATES
Phone #: 618-978-0830
Alternate Phone : 618-978-0830
[email protected]
| | |
| --- | --- |
| Breed | Labrador Retriever |
| Color | Chocolate |
| Sex | Various |
| Whelped | 06/25/2020 |
| Price | NOT FOR SALE |
Hello! I have a litter of AKC chocolate lab puppies. Puppies were born June 25th and will be ready for their fur-ever homes around August 20th. I am located in Nashville, TN. Mom and Dad are both chocolate labs. Mom is my personal dog. She hunts with me and is very well behaved. She is great with kids and all other animals. Dad is my friends personal dog. He is a very sweet dog. Both parents come from hunting bloodlines. Puppies will be AKC registered, will be up to date on all shots and deworming. They will also be microchipped. Each puppy will be sent home with a folder filled with training tips, feeding schedule, vet records etc. as well as a small bag of puppy food, and a few toys. Puppies come with a 1 year health guarantee. If at any time you decide you no longer want your puppy no matter how old they are, they must be returned to me no questions asked and depending on age you will get a portion of what you paid for them back. I do request that if you have Facebook you add me so I can see how they grow. The majority of my buyers send me yearly updates of their puppies. I occasionally post to Facebook and tag everyone so they can all see how their fur baby's bothers and sisters have grown and some of their common interests. They all seem to love seeing the other dogs. I also love seeing them all. There is a $200 deposit to hold a puppy that will go towards the total price. You will have my personal phone number and email for any questions or concerns for their entire lifetime. I am always available for any concerns. I want my puppies to go to the best loving homes possible. If you would like any more information please let me know. :) 618-978-0845 #gundogs #gundogcentral #huntingdogs #sportdog #fielddog #dogsofgundogcentral #loyalldogfood #loyallforlife #labradorretriever #retrievers #puppiesforsale #chocolate #bartelso #illinois
User Reviews

Write a Testimonial
Zero reviews submited so far. Be the first to write a review this individual

---
No testimonals given at this time.
* Disclaimer - No kennel, breeder, individual or dog found on this site is associated with Gundog Central in any way, unless otherwise stated. Gundog Central provides the space to advertise these dogs only. It is the sellers responsibility to describe their dogs in an honest and accurate manner. It's the buyers responsibility to verify this information before purchasing a dog found on this site. Money order scams are a common problem when selling your dogs online. Do not accept money orders or over payments. If you do accept a money order, never send real money back to the individual that sent it, as these money orders are most often fake and won't be covered by your bank.