Article Database
Have something to share? Post it here for Free.
Skin Laceration Repair in the Field by Shawn Wayment DVM
There is nothing finer than being afield in autumn's country with bird dogs. The whir of wings as a covey of scaled quail erupts from the sand sage can stir the cholesterol from the morning's greasy-spoon-country-dinner breakfast. Gun smoke clears the air as the setter climbs through the taut five-stranded barbed wire fence retrieving the first bird of the day. This is the Wild West, and ranchers want assurance that their livestock are protected. As you reach down to take the bird your well trained setter delivers gently to hand, you notice fresh blood on the dorsal surface of her back. A nimrod's classic morning has now turned into a trip to the local vet…which in this case is 150 nautical miles from where the event occurred and it is Sunday.

[
Details
]
Beware the Twins - By Tom Word
They were twins, and identical, at least every one said they were. Of course white folks would have said identical anyhow, they couldn't have distinguished between them if they were just cousins, let alone twin brothers. They could each ride like the wind, and scout a bird dog, which Ron did for a living, working for the all-age handler, Sparrow Bates.

[ Details ]
Hunt Dog Mania - Black Friday Sale
Check out this huge Black Friday sale at Hunt Dog Mania. 15% off entire site, plus a free t-shirt with every Black Friday purchase.
[ Details ]
The Nose Knows: Reading your Birddogs Signs by Tom Keer
If you own a bird dog, let alone a string of 'em, then the odds are high that you know what their every movement and noise means. But if you're hunting over a buddy's dog then you might not be as keyed in to their tells. Here are two common situations that bird dogs encounter and some different ways in which they react.

[ Details ]
Two Heroes - by Tom Word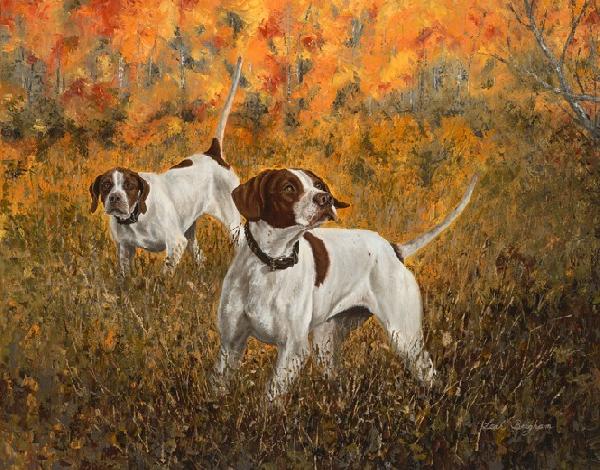 They are two heroes , both Pennsylvanians, both Vietnam combat veterans. Both are pointing dog professionals. One is a Marine, one is Army. They both saw much combat, and that has had its inevitable consequences, physical and mental.

[ Details ]
Gundog Central Announcement
I can't tell you how excited I am to be able to bring you some brand new content from two super talented and respected individuals of the bird dog community. I really admire their work and I think you will too. Later today I'll be uploading a short story written by legendary Bird Dog and Field Trial author Tom Word, accompanied by art work contributed by bird dog and wildlife artist, Leah Brigham.

[ Details ]
The $10 Million Bird Dog - by Tom Word
Ben Reach had for five decades followed his father's admonition, " Do not get involved in a divorce case....unless a lot of money is involved and you can be assured of being paid." Ben had long since ceased involvement in divorce cases, even lucrative ones, except occasionally as mediator. His involvement in this one would be uncompensated, except non-financially, as an act of friendship toward a man he admired and respected, or perhaps as an act of revenge on a woman he didn't much like.

[ Details ]
| | |
| --- | --- |
| Total Records: 34 | Page 1 of 5 |