Teal with Orange Sauce
Go back to all recipes
Written by Jenny and Rick Wheatley
Visit :
Visit authors website
Prep Time: 30 MIn - Cook Time: 2 1/2 Hours
Teal are among the best-tasting of wild waterfowl. The meat is rosy pink and succulent when cooked to medium, and it lacks the strong flavor that is more apparent in other migratory game birds. If I had to choose one species to introduce a wild game newbie to the taste of waterfowl, it would be teal. These birds have just the right amount of gaminess without being overpowering.

Duck a l'orange is a classic French dish, usually prepared with much larger domestic birds. We've adapted this recipe to teal, which are several times smaller and therefore take a lot less time to cook. However, this recipe does require some elbow grease—making the sauce is the most time-consuming part. If you'd still like to try this recipe but hesitate to dedicate that much effort, follow the steps to cook the bird exactly but instead of making the sauce from scratch, do the following: Deglaze the pan with port, and then simmer quality chicken stock and enough orange marmalade to thicken. Season to taste and voila.
Ingredients
4 4 whole teals, plucked and wings removed (save the wings)
1 Duck carcass (bones only), optional
2 tbsp Oil (or duck fat, if available)
1/4 Onion, roughly chopped
1 Rib of celery, chopped
1 Carrot, chopped
6 whole Black peppercorns
5 sprig(s) Thyme
3 cup(s) Water
3 cup(s) Chicken Stock
3 Navel oranges
Kosher salt and freshly cracked pepper
1/4 cup(s) Port
1 tsp Lime Juice
1 tbsp Cold Butter
Paprika
Roasted vegetables: pictured is carrot, parsnips and shallot
Instructions
Step #1 Preheat oven to 450° Fahrenheit. In a stock pot over medium-high heat, heat 2 tablespoons of oil and brown duck wings (and/or duck carcass if available), onion and 3 sprigs of thyme for 5-7 minutes. Stir occasionally. Then add carrot, peppercorns, celery, chicken stock and water. Simmer for 1 hour.
Step #2 Meanwhile, slice off the peel and pith of one orange. Remove as much pith (white spongy part) as possible from the peels, and then add the peels to the simmering stock. Cut out the orange membranes and reserve for later. Squeeze the other two oranges, and set juice aside.
Step #3 Strain the stock and discard all solids except the orange peels. Slice the peels thinly and reserve. In the same skillet where the ducks were browned, add 1/4 cup of port to the rendered duck fat and reduce to a syrupy consistency, scraping the bottom of the pan with a wooden spoon. Next add the strained stock, orange juice and 2 more sprigs of thyme. Bring to a boil and reduce until thickened and smooth, about 20 minutes. You should end up with about 1/3 cup of sauce. Take off heat, discard thyme and whisk in cold butter and lime juice. Season with salt and pepper to taste.
Step #4 To save time, complete steps 3 and 4 simultaneously: While the sauce is simmering, pat ducks dry and season with salt inside and outside. Then place ducks breast-side down in a cold, heavy skillet. Turn up the heat to medium-high and allow the skin to render and brown. Then turn ducks on their sides and backs to brown. Remove ducks from the skillet and place them onto a baking sheet. Lightly dust paprika over duck breasts and sides. Roast the teals for 12 minutes in a 450-degree oven. Meat should still be pink when done—shoot for breast temperature between 135-140 degrees.
Step #5 Allow ducks to rest for 5-10 minutes loosely tented with foil before serving/cutting. Serve ducks whole or quartered with orange sauce. Garnish with orange wedges and sliced peel. Serve with roasted vegetables.


About the Author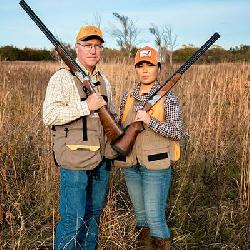 Jenny and Rick Wheatley
Visit authors website
Jenny and Rick Wheatley both grew up in Southern California and connected over a shared love of the outdoors. They started their wild game cooking blog Food for Hunters in 2011, where they share recipes, photos and thoughts on wild food. Today, Jenny and Rick continue to hunt, fish, forage and cook in the Cornhusker State – Nebraska. Their recipes have appeared in numerous publications, including Petersen's Hunting, Game and Fish, Nebraskaland and North American Whitetail magazines.

The Nebraska Center for the Book awarded their book Hunting for Food: Guide to Harvesting, Field Dressing and Cooking Wild Game the Wildlife Honor Award in 2016.
Photo Credit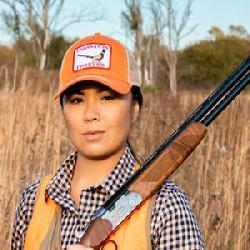 Jenny Wheatley
Visit artist website
Website: www.foodforhunters.com
Instagram: @foodforhunters
Facebook: www.facebook.com/foodforhunters