Herb and Orange Quail
Go back to all recipes
Written by Jenny and Rick Wheatley
Visit :
Visit authors website
Prep Time: 24 Hours - Cook Time: 15-25 min
You can't eat whole quail with a knife and fork, so put those utensils away and grab the napkins. This is drinking food at its finest. Enjoy these little birds with cold beer and other finger foods on the side.
Ingredients
6 whole quail, skin on
8 sprig(s) fresh thyme, leaves chopped
2 to 3 sprig(s) fresh rosemary, leaves only
4 sprig(s) fresh oregano, leaves chopped
5 clove(s) garlic, minced
Juice of 2 sweet oranges
Grated zest of 2 medium oranges
1/4 cup(s) Olive oil, plus extra
Juice of half a lemon
1/4 tsp Cumin
1/4 cup(s) chardonnay wine
2 each shallots, minced
1 tsp Kosher salt, plus extra
Freshly cracked pepper, to taste
Paprika, to taste
Instructions
Step #1 To make the marinade, combine thyme, rosemary leaves, oregano, garlic, orange zest, orange juice, ¼ cup of olive oil, lemon juice, chardonnay, cumin, shallot and 1 teaspoon of salt in a bowl. Whisk and set aside.
Step #2 Rinse quail and pat dry with paper towels. Place them inside a large zip-top bag and pour in the marinade. Massage the bag to evenly distribute the marinade around the quail. Remove as much air from the bag as and then seal. Refrigerate quail for 24 hours, flipping the bag over occasionally.
Step #3 One hour prior to cooking, take quail out of the refrigerator. Preheat oven or grill to 400 to 450 degrees Fahrenheit. Remove the quail from the marinade and pat dry with paper towels. Brush each bird with olive oil, rub with paprika and lightly season the inside and outside of each bird with salt. Lay them breast side up onto a rimmed cookie sheet and roast for 15-20 minutes or until the skin becomes golden and birds are just cooked through. If grilling, flip the birds halfway through to brown both sides. Serve hot.
About the Author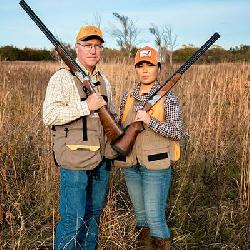 Jenny and Rick Wheatley
Visit authors website
Jenny and Rick Wheatley both grew up in Southern California and connected over a shared love of the outdoors. They started their wild game cooking blog Food for Hunters in 2011, where they share recipes, photos and thoughts on wild food. Today, Jenny and Rick continue to hunt, fish, forage and cook in the Cornhusker State – Nebraska. Their recipes have appeared in numerous publications, including Petersen's Hunting, Game and Fish, Nebraskaland and North American Whitetail magazines.

The Nebraska Center for the Book awarded their book Hunting for Food: Guide to Harvesting, Field Dressing and Cooking Wild Game the Wildlife Honor Award in 2016.
Photo Credit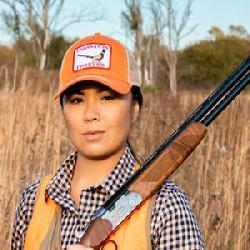 Jenny Wheatley
Visit artist website
Website: www.foodforhunters.com
Instagram: @foodforhunters
Facebook: www.facebook.com/foodforhunters