Pheasant Kiev with Cilantro Lime butter
Go back to all recipes
Contributed by JEFF DAVIS
Prep Time: 2 Hours - Cook Time: 30 min
Next year I'll turn 50 years old, my body is starting to ache every morning, my joints hurt and I'm starting to put on a little weight. I thought I needed to find a good way to get some exercise, working on a computer all day doesn't afford me a lot of exercise during the day, so a few years ago, I started taking Karate. I didn't like it at first, never thought I would have stuck with it this long, but with any luck, this time next year, I might be eligible to test for my black belt, assuming the coronavirus doesn't get me first. Recently I had to take a test for my second-degree brown belt, which I passed! Afterward, some of us decided to go eat at a local restaurant. However, the restaurant we wanted to go to was packed and the wait time would have been over 45 minutes… we decided to go to another restaurant across the street. While we were there, my fellow classmate, already a black belt, ordered the Chicken Cordon Bleu from the menu. Once his plate arrived, I don't think he was very impressed with his meal and made a comment about how he wished it was "That chicken that squirts butter out when you cut into it". At the time, he couldn't remember the name of it, but eventually it came to him, he called it "de Volaille". Hes Polish, sometimes it can be difficult to understand what hes saying and I wasn't sure I understood him right, but I had certainly never heard of it before, so I had to look it up. Turns out … what he was referring to was also known as Chicken Kiev. He didn't realize then, but he had just planted the idea for the next two recipes I'd post on Gundog Central. A Pheasant Cordon Bleu, that he would not have been disappointed with, which I posted a few weeks ago, and this Mexican spin on a classic Chicken Kiev made with Pheasant.

Initially, my friend couldn't remember the name of this Russian / Ukrainian dish, but it did come to him before dinner was over. My friend is Polish and grew up in Poland, next door to Ukraine. When he called this dish De Volaille, which it is how it's most commonly referred to in Ukraine, I had no idea what he was talking about. He made it sound so good though, I immediately came home and started researching how it was made. Turns out De Volaille, or Chicken Kiev ( as I knew it ) was created by a Russian Chef studying French Cuisine. I took a lot of notes on my phone and continually wrote down ideas on how I could recreate this and sort of make it my own. I swear I changed my mind a hundred times, but this is what I eventually came up with, a sort of a Mexican-Ukrainian fusion dish.

Traditional Chicken Kiev, is breast meat pounded flat with a dab of herbed butter placed in the center and folded up into a ball or rolled up into a log, so that the butter is sealed inside. It's then usually breaded on the outside and deep fried for a few minutes, then moved to the oven to finish. Once it's done, when you cut into it, flavored butter spurts out everywhere. The butter inside helps keep the meat moist and flavorful. I decided to put a Mexican twist on this dish, was Chili and Lime infused Panko breadcrumbs, Cilantro Lime butter, Mexican Rice with White Queso, Salsa Verde and a Jalapeno Cilantro Moscow Mule. You can use whatever flavors you like, but around here, we eat a lot of Mexican food. The little town we live in only has about 4500 people living in it, but there are at least three Mexican restaurants. Generally, after Karate class on Thursday night, a bunch of us will go to the Mexican restaurant to eat, it seemed only fitting that since karate class was the inspiration for this recipe that I include a Mexican twist. This recipe might seem difficult at first glance, but it's actually well worth the time. Don't be afraid to substitute whatever flavors are appealing to you, along with whatever sides you would prefer. This was my first attempt at making this dish and we were all very happy with the way it turned out. Hope you enjoy.
Ingredients
Pheasant Kiev with Cilantro Lime butter
4 whole Pheasant Breast ( Skin Removed )
2 Eggs
1 cup(s) All-purpose flour
2 cup(s) Panko Breadcrumbs
1/2 tsp Chili Lime Seasoning
Salt and Pepper
Cilantro Lime Butter
1 stick(s) Butter, Room Tempature
Juice from half of Lime
Zest from Half of Lime
4 tbsp Finely chopped Cilantro
Salsa Verde
5 whole Tomatillos
2 whole Jalapenos
2 clove(s) Garlic
1/2 Sweet Onion
1 Juice from one Lime
1 bunch Cilantro
Salt
Mexican Rice
1 cup(s) White Rice
8 oz Tomato Sauce
2 cup(s) Pheasant Stock
1/2 tbsp Red Pepper Flakes
1 tbsp Vegetable Oil
3 Links of Chorizo
1/2 White Onion
Queso White Cheese dip
4 tbsp Salted Butter
1/4 cup(s) All-purpose flour
2 cup(s) Milk, room tempature
4 oz Velveeta white queso
1/2 tsp Cayenne pepper
Moscow mule
1 tbsp Lime Juice
5-6 Ice Cubes
2 oz Vodka
Ginger Beer
Lime Slices
Jalapeno Slices
Cilantro
Instructions
Step #1 Let's start this recipe by making the Cilantro Lime Butter. You should have one stick of butter that you've allowed to reach room temperature. Take a piece of parchment paper and lay it out on the counter. Place butter in the center of parchment paper. Zest half the Lime over top of the butter, then squeeze out the juice from that half of the lime over top of the butter. Sprinkle with chopped cilantro, then smash everything together with a fork, incorporating all the ingredient together. Roll it up, into a log type shape, then place it in the freeze to firm up for about an hour.
Step #2 Take pheasant breast and remove any skin that might still be attached. On a cutting board, cover the breast with plastic wrap, then pound flat with a cooking mallet, about 1/8 inch thick or so should be fine. Don't over pound it, as it can cause the meat to break apart and you don't want that. Just work it into flat, roundish shape as much as you can.
Step #3 Now take your firmed-up Cilantro Lime butter and cut off about half a tablespoon from the end of your log. Place it in the center of the pheasant breast. Fold the edge of the pheasant over top of the butter, forming a ball type shape. Tuck in all the edges and overlap as much of the meat as possible.
Step #4 Tear off some more plastic wrap and place the rounded breast meat in the center. Pull the edges of the plastic wrap up, then grab the loose wrap behind the breast meat and twist it up tight, until the meat seems like it's about to burst out. This will help seal off any loose gaps you might have. You want to make sure that everything looks as closed off as possible. You don't want the butter to be able to find its way out, once it starts to cook.
Step #5 Once your satisfied with it, place it in a shallow pan. Repeat for all pheasant breast, then place your pan in the freeze for an hour to set.
Step #6 While the pheasant is in the freezer, we can make the Salsa Verde, the longer it can sit around in the fridge, the thicker it will get. Take 5 tomatillos and remove the stems and husk, then rinse them clean along with two Jalapenos.
Step #7 Set the broiler on the oven to high. Place the tomatillos and jalapenos on a baking sheet, then place in the oven, on a middle rack and broil for 5 to 10 minutes, until they start to blacken. You may want to flip them halfway through to get a more even roast. Alternately, you can place on the grill and cook until they start to char.
Step #8 Place 1/2 of a white onion, two garlic cloves, roasted tomatillos and Jalapenos in food processor and pulse a few times. Squeeze in the juice from one lime, a few springs of Cilantro and salt, then pulse a few more times. Taste and add additional salt and / or seasoning as needed.
Step #9 Remove salsa to bowl and place in the refrigerator to thicken.
Step #10 Preheat oven to 400 degrees. In a large skillet or Dutch Oven, heat vegetable oil to 350 degrees. Setup your dredge station in close proximity to your Dutch oven. You'll need three bowls. One to hold all-purpose flour and a dash of salt, one for 2 beaten eggs and a third one for 2 cups of panko breadcrumbs mixed with ½ teaspoon of chili lime seasoning.
Step #11 Remove the pheasant from the freezer, remove any plastic wrap if you left it on. Dredge each breast through the flour, then egg and then seasoned panko breading, making sure to coat evenly during each step.


Step #12 Drop in the skillet and cook for about 5 minutes, turning often, or until they start to turn golden brown on all sides, then transfer to baking sheet.
Step #13 Place baking sheet in oven and cook for 15 minutes. You can test the internal temperature, should be around 165. Let rest before serving.
Step #14 While baking pheasant, you can start the Mexican rice and White Queso. Add vegetable oil and red pepper flakes to saucepan, set to medium heat. Cook the red pepper flakes for a minute or two, allowing them to release their oils.

Step #15 Add one cup of rice, cook an additional minute.
Step #16 Add 2 cups of pheasant stock and tomato sauce. Bring to a boil, reduce to simmer, cover and cook for twenty minutes. Fluff rice with fork with done.
Step #17 For White Queso, melt 4 tablespoons of butter in saucepan. Once melted add 1/4 cup all-purpose flour. Stirring, cooking on medium low heat for two minutes.
Step #18 Add 2 cups of warm milk, stirring continuously until sauce starts to thicken. Add 4 oz of Velveeta white queso and 1/2 teaspoon for cayenne pepper.
Step #19 To garnish the rice, cook some chorizo and white onions in a skillet. If the chorizo you purchased were links, be sure to remove the casing.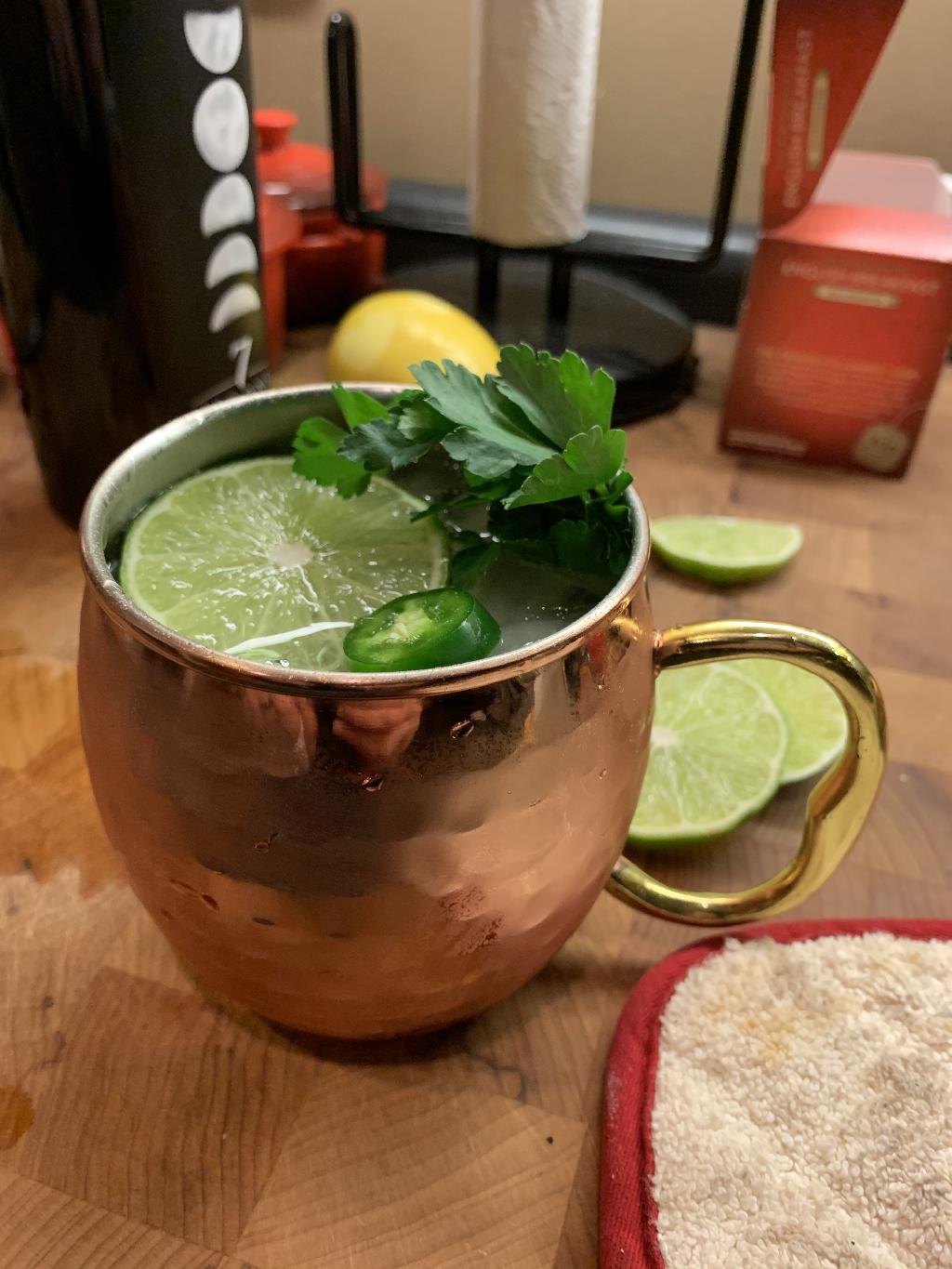 Step #20 For Moscow mule. Squeeze juice from half a lime in the bottom of the Moscow Mule mug. Add 5 to 6 cubes of ice, then 2 ounces of vodka. Top if off with ginger beer. Garnish with a slice of lime, three slices of jalapeno and cilantro.
Step #21 To serve, spread a spoonful of Salsa Verde down on the plate and place one of the pheasants on top of that. Add a few spoonfuls of rice to the side, top with Chorizo, onions and white cheese sauce. Serve with Mexican inspired Moscow Mule.