Duck with Cream and Herbs
Go back to all recipes
Written by Jenny and Rick Wheatley
Visit :
Visit authors website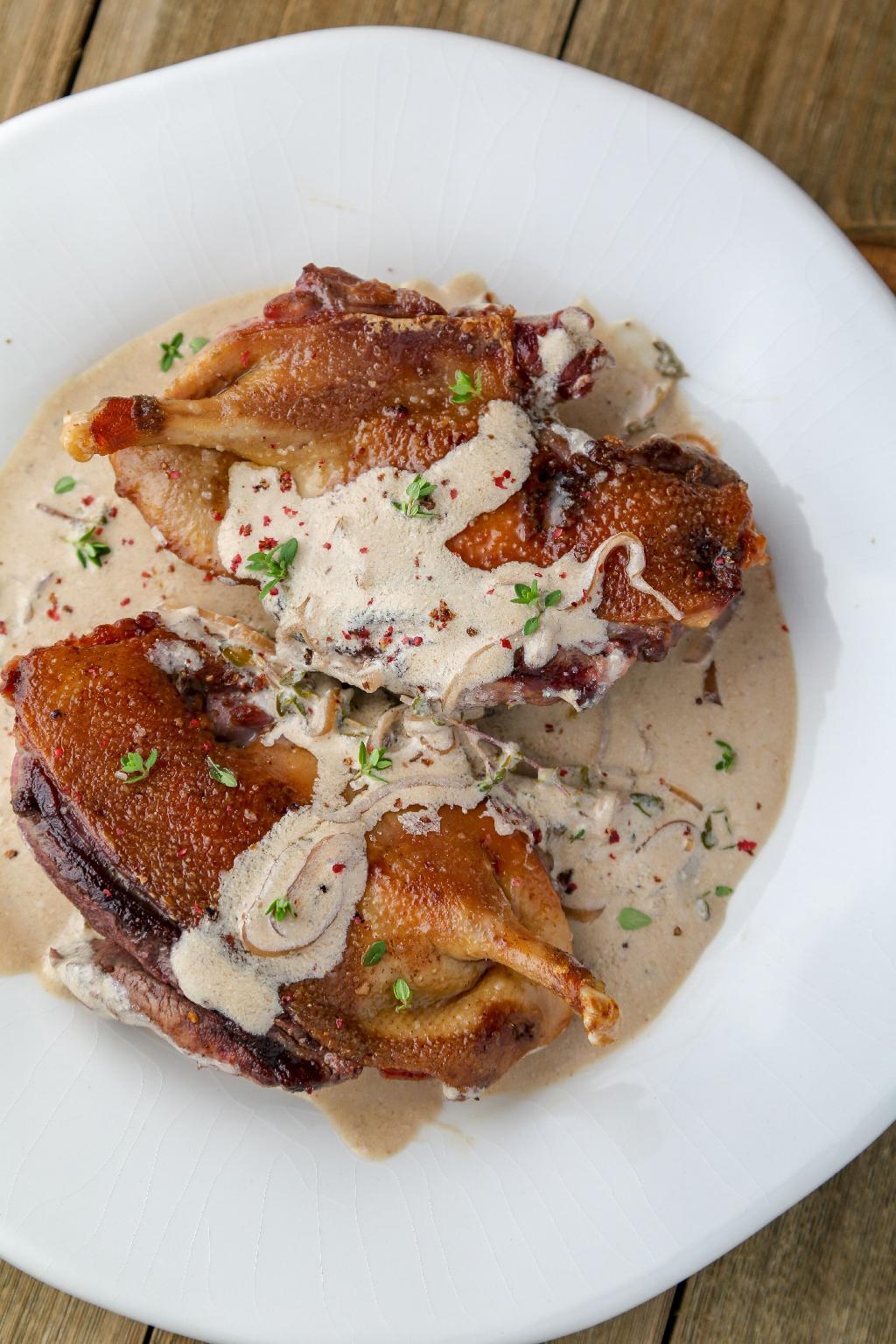 Prep Time: 1 hour - Cook Time: 20 min
Featured recipe of the month. Duck with Cream and Herbs by Food for Hunters by Jenny and Rick Wheatley.
Ingredients
1 Mallard duck, plucked
1 tbsp Olive Oil
2 sprig(s) Fresh Thyme
2 sprig(s) Fresh Marjoram
1 Small shallot, thinly sliced
2 tbsp Dry Sherry
2 tbsp Ponzu sauce
1 cup(s) Heavy whipping cream
Freshly cracked pepper, to taste
Kosher salt, to taste
Instructions
Step #1 Separate duck as desired – breast out the bird and remove the legs into 4 pieces, leaving skin intact or, remove the backbone and cut the bird in half. Allow the meat to sit for an hour at room temperature.
Step #2 When ready to cook, pat duck pieces dry with paper towels and season with salt and pepper. Add half the olive oil to a pan and turn heat to medium. Add duck skin-side down to the still-cold pan and cook until the skin renders and turns golden. Brown the other side until internal temperature reaches about 135 degrees. Remove duck from heat and allow to rest for 5-10 minutes, tented in foil, for a finishing temperature of 140-145 degrees for medium doneness.
Step #3 Meanwhile, add the rest of the olive oil to the pan and sauté the shallot and herbs thyme for 30 seconds; do not allow the shallot to burn. Add the dry sherry and cook for few seconds until most of it evaporates, while scraping the bottom of the pan with a wooden spoon to release browned bits. Then add the Ponzu and heavy cream. Simmer until thickened and season to taste. Adjust heat as necessary.

Step #4 Serve cream sauce with the warm duck and your favorite side dishes. Wild rice is a good choice.

About the Author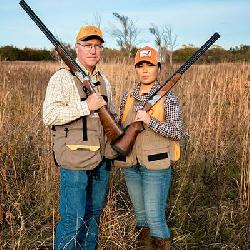 Jenny and Rick Wheatley
Visit authors website
Jenny and Rick Wheatley both grew up in Southern California and connected over a shared love of the outdoors. They started their wild game cooking blog Food for Hunters in 2011, where they share recipes, photos and thoughts on wild food. Today, Jenny and Rick continue to hunt, fish, forage and cook in the Cornhusker State – Nebraska. Their recipes have appeared in numerous publications, including Petersen's Hunting, Game and Fish, Nebraskaland and North American Whitetail magazines.

The Nebraska Center for the Book awarded their book Hunting for Food: Guide to Harvesting, Field Dressing and Cooking Wild Game the Wildlife Honor Award in 2016.
Photo Credit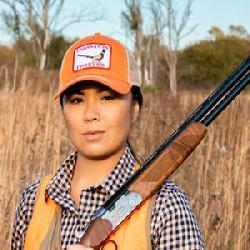 Jenny Wheatley
Visit artist website
Website: www.foodforhunters.com
Instagram: @foodforhunters
Facebook: www.facebook.com/foodforhunters