Train for your game
All Hunting Articles
Written by Tom Keer
Visit :
Visit authors website
Some sports, like shooting and dog training, are best played with a training foundation. Every progression builds on the mastery of the previous level, and repetitions make the master. When it comes to shooting, spring is the best time to review your shooting and to identify what needs work. Proper mechanics build a strong shooting foundation, so here's how to turn those weaknesses into strengths.




Fit is It: Getting in shape for sport shooting doesn't require the same intensity as football two-a-days. That said, strength, flexibility and conditioning always help any athletic activity. But one of the biggest reasons shotgunners miss is because their gunning irons don't fit. Solid shooting requires the eye to roll right down the barrel rib and on to the target. Standard dimensions are 14 ½ LOP and 1 ½ x 2 ½ DAC and DAH. If you fit that standard then you'll consistently hit anything coming your way. But if your stock is too short, if it has too much drop, or if the cast is off then get a gun fitting offered by many gun shops. You'll work with an experienced professional who will have an adjustable try gun to use on a patterning board. After that, shoot a round of skeet with that adjusted try gun to be sure you can hit. Then, compare your dimensions to your favorite shotgun. Side-by-sides are fit differently than single sight plane shotguns like over/unders, pumps and semi-automatics.




Stance: A balanced stance is foundational to your shooting. Missed shots in the field often come from boots tangled in grasses or deadfall. Poor footing can come when you stand up in a duck blind, especially if you're struggling to stand while your neoprene waders aren't stretching. A balanced stance, with your feet slightly wider than your shoulders, enables shooters to move and follow targets or birds. Place the foot under your lead hand slightly forward to achieve a strong base. It's easy to work on your stance on a clays course—but to get ready for hunting season, train for the game you play. Setting up a "quail walk" is a great way for uplanders to walk, see a target and then set up a stance. If you're a waterfowler, sit in a blind or in a boat and throw some crossing or incoming shots that require standing, setting a stance and swinging. Wear the same hunting boots, pants, chaps, vests and jackets that you'll use during the season, too.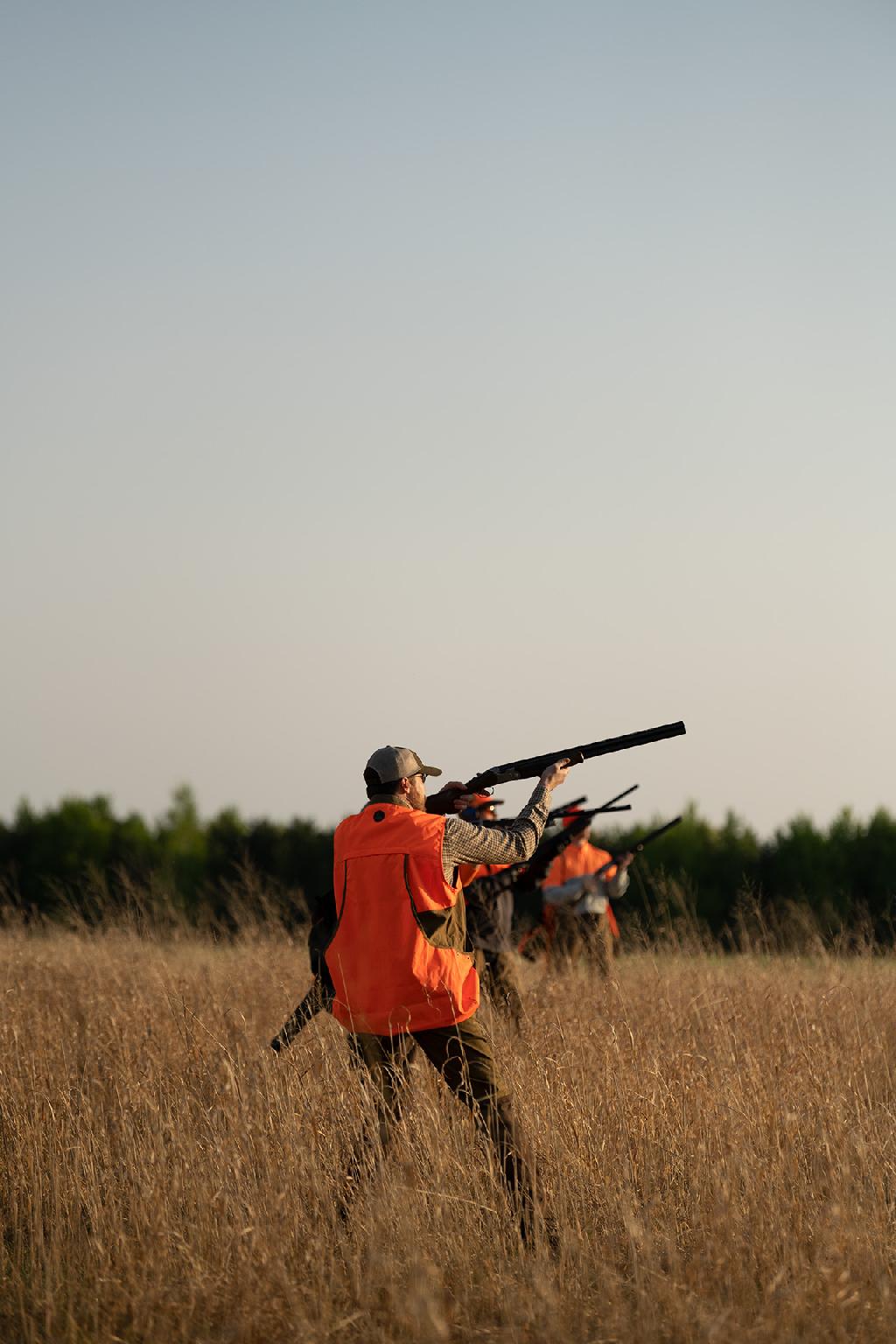 Mount: Missed shots can come if your mount isn't smooth, and a leading cause is a butt pad that grabs your clothing. Leather-covered pads or skeleton butt pads slide easily enough, but rubber recoil pads are infamous for grabbing clothing. A quick fix is to cover your rubber pad with black electrician's tape, which is smooth and easily removed. Look at shooting vests with extended pads, as well as clothing with a smooth finish. Smoothly sliding your stock into a solid mount is critical for a good shot.




Hand Movement: Muzzle rock often comes when the lead and rear hands aren't working in synch. The splinter forend of a side-by-side, combined with a straight English stock, places both hands in a parallel-to-each-other position. Smooth, flat mounts are easily achieved. Thick beavertail forends are a lot to hold on to—but the more aggressive the pistol grip, the more at odds your hands are. Monte Carlo stocks place the rear hand at nearly a 90-degree angle to the forend, so more orchestration between your two hands is required for a smooth, flat gun mount. Wear gloves to get a nonslip grip. Practice makes perfect, so work on your hands when you're at the range.

Swing: Not many shooters miss by being ahead of a bird or target—but being above, under and certainly behind is more common. You can accomplish smooth swings in your living room. Place a penny on your barrel rib, pick the line where your wall meets the ceiling, and swing. If the penny falls, you're bouncing, which can place your shot above or below the target. Shooting behind the target can come from slow reactions that result in slow speed. But they also can come from clothing that impedes movement. Shooting is athletic in that it requires movement, and vests allow for more flexibility. Wear performance undergear for warmth without bulk, too. That layered approach is ideal because it doesn't louse up your length of pull, either.




Target Acquisition: It's true that the eyes are the windows to the soul, and if you're missing a lot it might be due to your vision. Vision changes with age, so start with a thorough eye exam. Shooting glasses that contrast with your target, or brighten/darken the lighting depending on the weather can help. But one key is to really focus your attention on the clay or bird. It's easy to lose focus in brush, with dodgy birds, or when paying attention to running your string. But when that bird either flushes or pitches into your decoys, your focus should be hard on the target. You can't kill what you can't see, so keep your eyes on the prize.

Right now, Opening Day seems like a long way off. To get ready for it, gear up and shoot some clays. It'll help pass some of the time to get to the seasons we live for.


Save big this Memorial Day
Honor Our Heroes this Memorial Day! Shop the Memorial Day Event at Beretta.com offer expires 6/5!
Use Code: MD45 for 45% Off Orders Over $450
Use Code: MD35 for 35% Off Orders Over $250
Use Code: MD25 for 25% Off Orders Over $125
Click here to save
About the Author
Tom Keer
Visit authors website
Tom Keer owns The Keer Group, an outdoor marketing company which works perfectly with his freelance writing career. He casts his four English setters in Northeast upland coverts and Southern quail fields with fortunate regularity. Hes been lucky to be surrounded by people and dogs that are much smarter than him. Visit him at www.thekeergroup.com or at www.tomkeer.com