Hunting Those Cold, Wet Winter Days in the Fields and Woods for Pheasants
All Hunting Articles
Written by Edgar Castillo
Visit :
Visit authors website
We had parked a half-of-mile down the road. A couple of dozen roosters stood idle in the field. They resembled tiny black checkmarks from a distance against the white backdrop. Every once-in-a-while some would scoot in and out of brush piles and thickets. The snow had covered the land. Tufts of yellow grass were scattered across the field. Most of the grass had been covered by the snow. With no where to hide, the birds found refuge in what little cover they could find. This meant flocks of pheasants sheltering up together out of the elements. A small woodlot seemed to be providing roosters a place to get out of the wind and cold. According to the map the public parcel included an adjacent field of sorghum.




It was the first week of December and old man winter had come with a vengeance. Temperatures were cold and the wind howled like a pack of wolves. The morning brought frigid cold temps. We started our approach towards where we had seen the pheasants milling about. The decision was made to work the dogs in the sorghum field. We ended up shooting a duo of roosters each amongst the row of cut sorghum and flushed several ring necks out of the trees. The morning was an eye opener for hunting pheasants in the cold. If we would have never had seen the pheasants, we would have looked for grassy fields as is the norm when starting out in the morning. We learned to keep our options open and analyzing why the pheasants took to heavier cover so early in the morning as opposed to staying in thick grass.

Here are a trio of tips for hunting pheasants in the winter that I found useful and easy to put into play in the pheasant fields.




Hunting Cold, Wet, and Windy Mornings. The typical agenda for pheasants during normal conditions is to wake up in the morning after roosting in thick, heavy grasses and either walk or fly to the nearest food plot. This could be some type of grain field; corn, milo, sunflower, or wheat field. At midday, pheasants then tend to hang out or loaf in light cover near a food source. During the last portion of the day, pheasants return to the fields again just before going to heavy cover to roost for the night. Hunters know how to take advantage of this pheasant schedule and hit those spots at key times throughout the day.

Now that winter is upon us, pheasants tend to alter their habits and hunters must do the same. When temperatures are frigid cold, pheasants start for the fields by dawn's early light to fill their bellies with high-energy grain. They need to feed in order to help stay warm. After gorging themselves pheasants return to the confines of heavy cover. Hunters should now focus on grain fields and bypass roosting sites. If a food source is nearby to heavy cover and grasses, hunters should work the food plot and field edges. Pheasants may defer to conducting dine-and-dashes being relatively close to a meal during those cold days. Hunters should look for tracks and travel patterns. These highways can steer hunters to travel corridors used by pheasants as well as possible roosting sites.

Search out thick fields of CRP. When it's windy and wet, hunting the roost in the early morning is a good tactic. Birds will be reluctant to leave their warm and toasty confines when there's precipitation. Strong winds will keep pheasants at bay and help mask hunters' approach.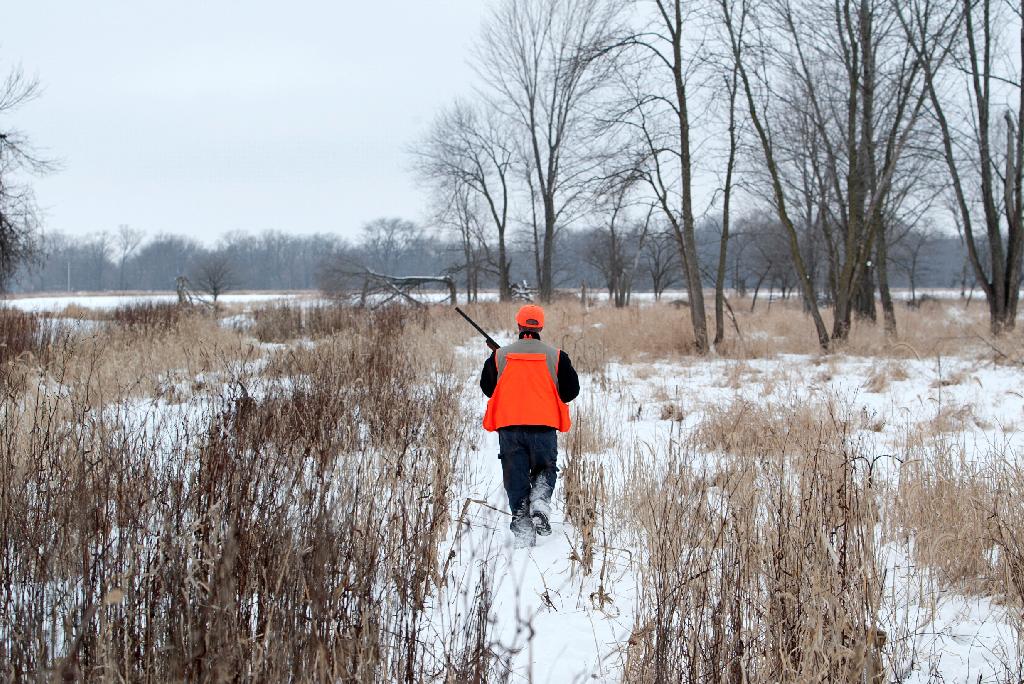 To the Woods. Pheasants are grassland birds. Yes, hunters find them in marshes and cattails, but timber is usually not a place normally associated with pheasants. Imagine watching a rooster take to the air maneuvering through branches to clear the canopy of trees with its flowing long tail…it would be a sight. This reason alone is enough for roosters to avoid the woods. When pheasants have no place to go, they will take to the woods. Usually they're forced or pressured because of the weather. When heavy snows fall and flatten the grassy fields and there is relatively no other cover, hunters need to focus their efforts in the woodlots.

The ideal woods for pheasants to hide in consist of bushes, brush piles, shrubs, and creek bottoms. Sometimes small coverts of trees that act like shelterbelts in the middle or along fields offer excellent protection and sanctuaries for pheasants. Don't think that you need large expanses of woods.

Sometimes it may be a small woodlot in or along a field. Hunters should work the edges and maybe stagger a hunter just inside the woods to flush out any loafing ring necks. Remember to look up in the trees for perched roosters.

An unusual phenomenon that I cannot explain but have noticed and read elsewhere is that when pheasants are found in the woods, there's a high percentage they'll be roosters. I know not of any correlation between roosters and woods. I can say from drawing on my own experiences that when I have hunted the woods, I have ONLY found roosters. Mind you that I did not purposely hunt the woods, it was more so that driving by, I noticed several roosters hanging out on the edge of a tree line and darting back into the woods when we stopped.




Stay Warm, but Don't Overdress. Many pheasant hunters tend to bundle up when it's cold outside. Rightfully so. But dressing smart is the key. Pheasant hunters should feel a little bit of chill getting ready, because once the walking begins, the body will kick start its internal thermostat and start warming up the body. Overdressing causes hunters to overheat. This can become a serious issue as hunters begin to sweat which could cause hunters becoming wet and cold and even hypothermic.

Pheasant hunters should dress in layers. Start with lightweight base layers to keep the core body warm then add a mid-weight layer, then finish up with a heavy-layer or instead wear a water and windproof outer-shell. Hunters can add and subtract layers as they cool down or warm up.

I find that some core pieces of gear can make the difference. A neck gaiter is versatile and can be worn around the neck for warmth or removed to cool down. It can easily be pulled up over the back of the head and up over your nose for those extreme cold days afield. Upland chaps offer protection against briars and brush as well as keeping you dry when hunting through wet grassy fields and snow. Many are water and windproof. I use chaps in place of long underwear or a bottom base layer. As the conditions or weather change, chaps can be removed quickly. The last piece of clothing I wear is a vest. I wear this instead of a coat. Preferably made up of fleece or synthetic material. Vests heat the core while allowing total freedom of movement. The first two items can easily be stored in one's vest when not in use.

About the Author
Edgar Castillo
Visit authors website
Edgar Castillo is a recently retired law enforcement officer for a large Kansas City metropolitan agency. He also served in the United States Marine Corps.

Born in Guatemala, hunting was a new concept when Edgar came to the U.S. His passion lies in the uplands as he travels across public lands throughout Kansas or wherever the dirt road takes him…to hunt open fields, walk treelines, & bust through plum thickets in search of wild birds in wild places.

This fervid emotion for the uplands has since blossomed into a SIGNIFICANT social media presence. It has allowed Edgar to share his experiences and connect with other bird hunters through writing.

Follow Edgar's upland escapades on Instagram at @hunt_birdz