American Foxhound
Find American Foxhounds for sale on this page
For more information about the American Foxhound
Click here
A Brief History of the American Foxhound

The American Foxhound is a rare fox-hunting dog breed that was first developed by George Washington in the late 1700s. But he didn't create it by himself; other fox hunting families like the Custises, the Lees, and the Jeffersons played a crucial role in the invention of the majestic American foxhound.

Even before that, the first foxhounds to ever land on the American shores are believed to have been brought in 1650 by one Robert Brooke. The British colonist made a voyage from England to present-day Maryland with his pack of English Foxhounds, of which the offsprings formed the basis for the breeding of the American foxhounds.

George Washington was an avid horseback fox hunter, and he had a pack of hounds to help him flush out and track red foxes. To create the ultimate American Foxhound, George and his cohort crossed the English Foxhound (direct descendants from Brooke's pack), Grand Bleu de Gascogne (French hounds he received from prince Marquis de Lafayette as a gift in 1772), and other local dog breeds. The result was a deeply loyal, swift, and fearless fox hunter.

Bred especially for the sport of fox-hunting, the true origins of the American Foxhound can be traced to Mount Vernon Virginia, and some parts of Maryland. In fact, the American Foxhound is today Virginia's state dog.

The Baltimore Hunt Club, Gloucester Foxhunting Club, and other kernel clubs interested in fox-hunting continued to import French, Irish, and English hounds deep into the 19th century. They, too, were crossbred with local dog breeds to produce other strains of the American Foxhound.

For instance, hounds that were imported in 1830 from Ireland became the basis for foxhound strains like the Trigg and Henry-Birdsong lines. Other popular strains in existence today include Penn-Marydel, July, Goodman, Calhoun, and Walker, amongst others.

As of writing, there are at least 4 types of the American Foxhound: pack foxhounds, which help horseback hunters in groups of 15-20; trail foxhounds (also referred to as drag hounds), which are raced using a decoy prey; slow-trail foxhounds, which accompany fox-hunters who hunt on foot, and the field trial foxhounds, which are well-known for their competitive spirit and speed.

Appearance

Like its close cousin the English Foxhound, the American Foxhound is built for speed - it's a sleek, streamlined, and muscled body with long, finely-boned legs. However, its loin is slightly arched at the end of the back, plus it's rangier and taller than the British relative. That's how you can tell them apart.

The chest of the American foxhounds is somewhat deep-set and narrow, much akin to most hound breeds. You can't mistake the breed's fox-like paws, well-relaxed shoulders, and a relatively long back

The muscular physique is perfectly balanced by the large head with a thick, slightly domed skull and a characteristic long & straight muzzle. The tail stands high (especially when hunting) with a slight curve.

They sport long, large ears that canopy down to the cheeks. Their eyes are large, wide-set, and come in either brown or hazel hue with a soft expression that's commonly described as "pleading and gentle."

American foxhounds feature a regal black or dark brown nose that may turn moderately pink or lighter during the colder months. As with most descendants of scent hounds, their nostrils are wide open, giving these hunting dogs their incredible sense of smell.

The foxhound's coat is medium-length, hard, and dense. Their coat comes in the traditional hound tricolor of tan, white, and black, but can be of any color, including multiple shades of red. These dogs are known for their loud musical bays.

Adults American foxhounds stand an average of 21 inches to 25 inches (53-64 cm) tall at the withers, can weigh between 45 pounds and 71 pounds (25-32 kg). Males are usually taller and heavier than females. Some strains bred to appear at shows can be as tall as 29 inches (74 cm).

Temperament and Demeanor

American foxhounds have a sweet and docile temper with a fiercely loyal, easygoing, and gentle personality. That's why they tend to get along well with other pets and kids. Nonetheless, they may seem to be reserved, timid, and slightly sheepish in the presence of strangers.

They are tolerant and sociable, especially when trained at an early age.

Health, Care, and Grooming

Despite being a purebred dog breed, the American Foxhound doesn't carry any known hereditary disease, so they are generally very healthy pets and hunting dogs. If overfed, they can easily become overweight, while some owners have reported Thrombocytopathy in the breed.

They don't shed too much hair, but weekly brushing can help you stay on top of shedding. While they are stubborn and independent, early training can go a long way. But because they were developed to hunt, they call for regular exercising and a healthy diet.
All
|
Pointer
|
Retrievers
|
Flushers
|
Versatile
|
Hounds
|
Terriers
Have a hunting dog for sale? List it here for Free.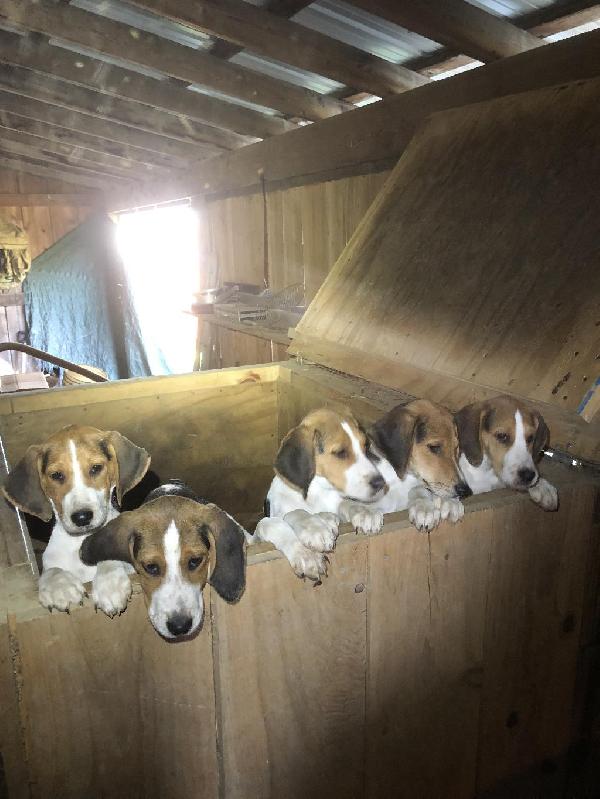 COYOTE DOGS
FEMALE - WHELPED ON 08/02/2023
Hounds - American Foxhound - Puppies for Sale
Posted on 11/15/2023 - - Last updated on 11/19/2023
$50.00
Click for Details