Chesapeake Bay Retriever
Have a hunting dog for sale? List it here for Free.

PUPPIES FOR SALE HUNTING AND COMPANIONSHIP
CH BLACKWOODS UNCOVER OPERATOR JH x CH Marjans Silvercreek Chantilly Lace
$1,800.00
[
Details
]
MALE CHESAPEAKE BAY RETRIEVER
MALE - WHELPED ON 02/02/2017
$1,500.00
[
Details
]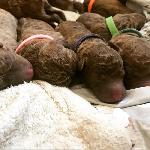 CHESAPEAKE BAY RETRIEVER PUPS!
Spicers Distinguished Diesel x Spicers Wicked Spurs
$1,000.00
[
Details
]
CHIAUSI CHESAPEAKES
WILDWOODS CHIAUSI TOK x CHIAUSI RIDGE MORGAN
$600.00
[
Details
]
CHIAUSI CHESAPEAKES
WILDWOODS CHIAUSI TOK x chiausi ridge kuna
$600.00
[
Details
]
NEW LITTER DUE END OF OCTOBER 2017
BISS CH Chestnut Hills Windjammer SH x Chesarab Muddy Teal WD
$1,800.00
[
Details
]
CHESAPEAKE BAY RETREIVERS PUPPIES FOR SALE
flying,B Cimmion big bear x flyingBSweet heart
$700.00
[
Details
]
MI-CHESAPEAKE BAY RETRIEVER PUPPIES
Puppy Sire x Puppy Dam
Call
[
Details
]