CHOCOLATE PUPS- 3.5XGMPR SIRED
All Hunting Dogs | Retrievers | Labrador Retriever | Puppies for Sale
1384 Views - Posted : 01/26/2020 - Updated : 03/06/2020 - Voted for : (0) times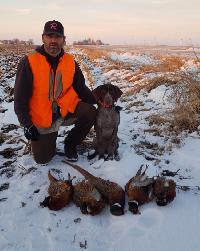 MIDWEST GUN DOGS
Kennel Account - Premium Account
KEITH BERGER
121 CHERRY ST.
HALE, MISSOURI 64643
UNITED STATES
Phone #: 660-565-2309
Alternate Phone : 660-752-6118
[email protected]
Member since: 12/13/2013
Location: MO


CHOCOLATE PUPS- 3.5XGMPR SIRED

11 pups whelped Feb 26.
Jade is a nice young female with several well known pointing labs in her pedigree including 4xGMPR Iowa Pointing Labs Grizzley and 4xGMPR HRCH Cams Prince Charming Duke. She has lots of energy and her natural abilities allow her to pick up on things quickly. Jade has a strong prey drive, nice natural point, and is an excellent retriever.
Jade weighs 55 lbs with OFA excellent hips and normal eye cerf.

Ryker is an extremely impressive young chocolate male. His pedigree is absolutely loaded with 12 of the 14 dogs in his three generation pedigree being titled. He pointed naturally from an early age and earned his Certified Pointing Retriever title and his Advanced Pointing Retriever title both when he was just 9 months old. Ryker weighs 80 lbs. He has OFA good hips,normal elbows, and eyes.
Crossed with Ryker, we expect pups with a natural pointing instinct. Pups from this litter will be excellent hunters and well as family pets.
Litter is due Feb 25. Males $800, Females $900
www.Midwestgundogs.com/ #gundogs #gundogcentral #huntingdogs #sportdog #fielddog #dogsofgundogcentral #loyalldogfood #loyallforlife #labradorretriever #retrievers #puppiesforsale #chocolate #forsale #gundogsforsale #huntingdogsforsale #featured #3.5xgmprnotchasincharliesangelryker #bergersbirchcreekjade #hale #missouri

---
To post a reply please log in
User Reviews

Write a Testimonial
Zero reviews submited so far. Be the first to write a review this individual

---
No testimonals given at this time.
* Disclaimer - No kennel, breeder, individual or dog found on this site is associated with Gundog Central in any way, unless otherwise stated. Gundog Central provides the space to advertise these dogs only. It is the sellers responsibility to describe their dogs in an honest and accurate manner. It's the buyers responsibility to verify this information before purchasing a dog found on this site. Money order scams are a common problem when selling your dogs online. Do not accept money orders or over payments. If you do accept a money order, never send real money back to the individual that sent it, as these money orders are most often fake and won't be covered by your bank.