Smoked Christmas Goose with Jeweled Wild Rice and Roasted Root Vegetables
Go back to all recipes
Contributed by JEFF DAVIS
Prep Time: 24 Hours - Cook Time: 5 Hours
I wanted to do a special meal this year for our Christmas Eve dinner, but really wasn't sure what I wanted to do. I wanted it to be something that I didn't have lot of experience with, something I hadn't really cooked before. So I started trying to figure out what would be an awesome Christmas Eve meal for the family. I could have just taken the easy route and picked up a Honey Baked Ham. While it would have been delicious, it isn't much fun to cook. Besides, I knew I wanted to do some type of wild game bird, like Duck, but then it hit me…. Goose! The Goose has had a tradition of being the centerpiece of many Christmas meals for a very long time. After eating it, I have to wonder why it still isn't.

This bird was delicious! Besides the wife and I, I had 4 teenagers at the house Christmas Eve. Obviously, I only got to try a few small slivers of this meat because the teenagers devoured it. In fact, the two teenage girls, who I thought wouldn't touch this meal with a ten-foot pole, consumed the majority of it! If you have never cooked a Christmas Goose, you need to start next year. I highly recommend we put this bird back on the Christmas Menu!

I brined this bird overnight in an Apple & Sage brine and popped it on the smoker the next morning. I smoked it using Pecan wood chips (that I had soaking in a bucket of water for over an hour). I had placed an aluminum tray beneath the bird in the smoker to collect the goose fat, mainly because I wanted to avoid any flame ups from the fat dripping down. I have to say, I'm surprised at just how much fat these birds have and how aromatic it was. I had originally planned on doing some maple roasted carrots to serve as a side dish, but after smelling this Goose fat, I knew I had to alter my plans. I ran to the store and picked up some parsnips, sweet potatoes, baby red potatoes and a yellow onion. The maple roasted carrots, soon became Goose fat roasted root vegetables. I tossed the vegetables in the goose fat, then covered them with salt, pepper, fresh rosemary and thyme. I also couldn't resist using some of the Goose fat in my wild rice pilaf.

I had talked in my previous recipe about how I wanted to make some dishes that incorporated foods from the fall harvest. I was able to check off Persimmons, Pecans, Pears, and Pomegranates in the last recipe involving Pheasant (I didn't realize how many "p" words were in that recipe). Apples, Cranberries and the root vegetables all get to make an appearance here. While that doesn't check off all the fall produce check boxes, it's enough to satisfy me.

Merry Christmas!

Recipe coming soon.
Ingredients
Smoked Goose
1 8 - 10 lb Goose
2 cup(s) Apple Cider
1 Ambrosia Apple
1 cup(s) Cranberries
1 bunch Fresh Sage
1 sprig(s) Rosemary
Salt and Pepper
Apple and Sage Brine
1 cup(s) Apple Cider Vinegar
1 1/2 cup(s) Sugar
1 tbsp Whole Black Peppercorns
1 cup(s) Dried Cranberries
1 bunch Fresh Sage
1 Ambrosia Apple
1/2 cup(s) Kosher Salt
1 gallon(s) Water
Goose Rub
1/2 tsp Garlic Powder
1/2 tsp Onion Powder
1 tsp Ground Sage
1 tsp Ground Pepper
1 tsp Salt
Roasted Root Vegetables
4 Carrots
3 Parsnips
24 oz Baby Red Potatoes
2 Sweet Potatoes
1 Large Yellow Onion
8 oz Collected Goose Fat
2 tbsp Chopped Thyme
2 tbsp Chopped Rosemary
Sea Salt
Pepper
Fresh Parsley
Jeweled Wild Rice
4 oz Baby Bella Mushrooms
2 cup(s) Wild Rice
1/2 Chopped Yellow Onion
1 Pomegranate
3 cup(s) Chicken Stock
2 tbsp Collected Goose Fat
1/2 tsp Salt
Fresh Parsley
Salt
Pepper
Instructions
Step #1 The first thing we want to do, is to make a brine for our bird. Pour 1/2 gallon of water in stock pot. Add 1/2 Cup of Kosher Salt, 1 1/2 cups of sugar, peppercorns, dried cranberries, apple and sage. Turn the heat to high and bring to a boil. Reduce heat to a simmer until the salt and sugar are dissolved. Remove from heat and let cool to room temperature. Add 1 cup of Apple Cider Vinegar.
Step #2 Once your brine has reached room temperature, place your goose in a large bag and pour the whole mixture over top of it. Pour the remain 1/2 gallon of water over top of your bird. If there isnt enough water in your bag to submerge your bird, you can dissolve 1/4 cup of kosher salt in another 1/2 gallon of water. Add just enough of the water / salt mixture to cover the bird. Try to press as much air out of the bag as you can, then seal and place in the refrigerator for 12 - 24 hours.
Step #3 Once the bird is brined. Remove from brining solution and pat dry with paper towels. Once you have the bird dry, place the bird back in the refrigerator for an additional hour.
Step #4 Once your ready to start smoking your bird. Put your wood chips, I used Pecan wood, in a small bowled and cover them with water, let them soak for at least 30 minutes. Combine all the ingredients for the Goose Rub in a small bowl. Remove the bird from the refrigerator. Sprinkle the inside cavity of the bird generously with the goose rub. Chop up an Apple and place it in the cavity with fresh sage and cranberries. Tie the legs with butchers twine. Spray the outside of the bird with vegetable spray and generously coat the bird with the goose rub. Pin the arms back and insert digital therometers. I placed one in the breast and one in the thigh meat.
Step #5 Prepare your smoker. Disregard how fifthly my Masterbuilt smoker looks, it gets used a lot. If you have a water / oil tray in your smoker that you can fill with liquid, mix equal parts apple cider and water and fill the tray half way. I placed an additional aluminum tray in my smoker underneath the bird to capture all the goose fat. Heat the smoker to 225 degrees.
Step #6 I sprayed the outside of my bird every hour with vegetable spray, until I had collected enough goose fat that I could use it to baste the bird in its own fat. I added my soaked pecan chips about every 30 minutes. Smoke the bird for 5 to 7 hours or until the temperature reach around 165.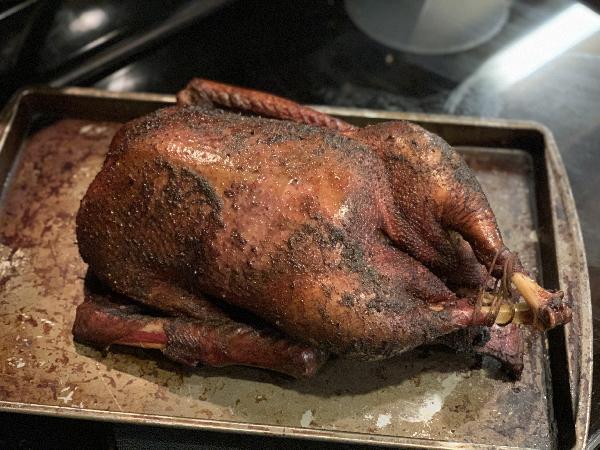 Step #7 Once the bird reaches the correct temperature. Remove it from the smoker and let sit for 15 to 20 minutes.
Roasted Root Vegetables
Step #9 To prepare the roasted root vegetables. Preheat the oven to 425 Degrees. Waste and rinse all your vegetables.
Step #10 Cut all the vegetables into roughly equal size piece, around 1 inch. This will help insure everything cooks at the same rate and finishes cooking at the same time. If you cut them much larger, you might consider dividing the potatoes and carrots out into different batches. Line two cooking sheets with parchment paper. Spread your vegetables out in a single layer on a cooking sheet.
Step #11 Drizzle each pan with 1 tablespoon of goose fat. Generously sprinkle with salt, pepper, rosemary and thyme. Toss to ensure all the vegetables get covered in fat and seasoning. Cook in the oven for 20 minutes. Toss the vegetables. Cook an additional 20 minutes. Toss again. Cook for another 10 to 20 minutes until the outside of the vegetables start to caramelize. Once done. Sprinkle with flaky sea salt and garnish with fresh chopped parsley.
Jeweled Long Grain Wild Rice
Step #13 Add 2 tablespoons of goose fat to large dutch oven and set heat to medium high.
Step #14 Slice a large yellow onion in half. Dice one half of the yellow onion and reserve the other half for another meal. Add the chopped onion to the hot dutch oven and cook for about 5 minutes or until the onion is translucent.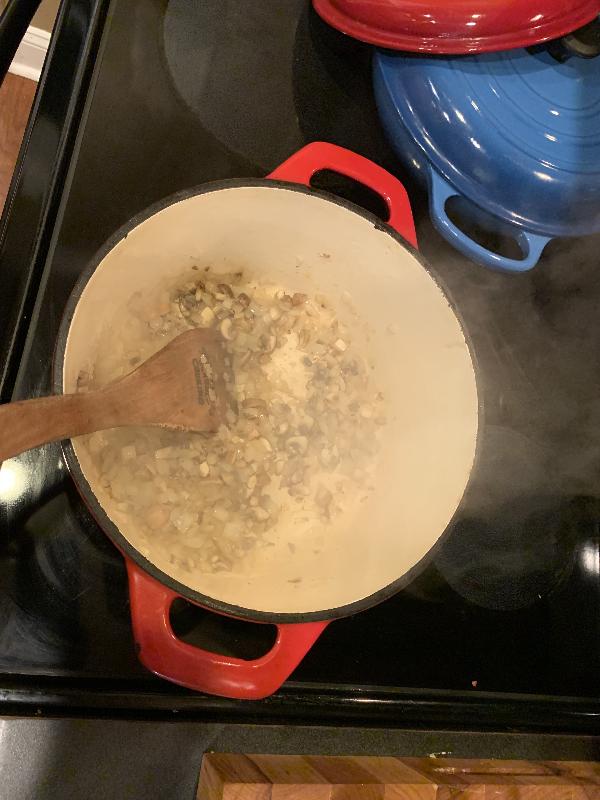 Step #15 Chop 4 ounces of baby Bella mushrooms and add them to the dutch oven. Cook for one to two minutes.
Step #16 Add rice and cook for one minute. Add 3 cups of chicken stock. Bring to a simmer, cover and cook until rice is down. About 15 minutes. Remove from heat and let stand 5 to 10 minutes. While the rice sits. Collect the seeds from one Pomegranate and sprinkle those over your rice. Granish with fresh chopped parsley.
Step #17 To serve, we put our vegetables down on a large serving tray and placed the bird right on top of them.