Roasted Curried Chukar
Go back to all recipes
Written by Jenny and Rick Wheatley
Visit :
Visit authors website
Prep Time: 4-6 hours - Cook Time: 35 min
Chukar can dry out easily, so the trick is to brine it beforehand — a technique that I highly recommend when cooking game birds. Not only does it add extra flavor to the meat, it also helps to keep it moist. The brining may take 4-6 hours, but its little work. Cooking the dish will only take you 35 minutes. If you have a chance to hunt for chukar, I hope you give this a try!
Ingredients
4 whole Chukars, skin on
1 Lemon, quartered
1 tbsp Olive Oil, roughly
1 tbsp butter, melted
Brine
8 cup(s) Water
1/2 cup(s) Brown Sugar
1/2 cup(s) Salt
8 juniper berries, slightly crushed
5 Sage Leaves
4 clove(s) Garlic, crushed
1 Bay Leaf
Rub
1/2 tsp Hugarian Paprika
2 tsp Mild, yellow curry powder
1 tsp dried coriander
1/2 tsp Powdered ginger
Dash of dried basil
1 tsp dried tarragon
1/2 tsp cumin
1/8 tsp turmeric
Instructions
Step #1 To make the brine, combine all brine ingredients in a large saucepan. Heat it just enough that the sugar and salt dissolves. Take off heat and cool completely before adding birds. Then submerge chukars in the brine. Cover and refrigerate for 4-6 hours. If the brine doesnt cover birds completely, add more water or place a heavy dish or bowl on top to keep the birds submerged.
Step #2 Preheat oven to 425 degrees Fahrenheit. Remove birds from the brine and pat completely dry with paper towels. Lightly coat olive oil all over birds, combine rub ingredients and distribute it between the four birds. Insert a quarter of a lemon into each bird then place in a baking dish breast side up.
Step #3 Roast chukars in a 425 degree-oven for 30-35 minutes, or internal temp reads 155 degrees F. Baste with melted butter halfway through.
About the Author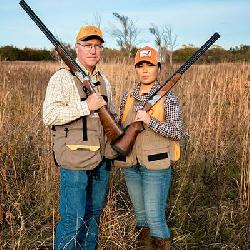 Jenny and Rick Wheatley
Visit authors website
Jenny and Rick Wheatley both grew up in Southern California and connected over a shared love of the outdoors. They started their wild game cooking blog Food for Hunters in 2011, where they share recipes, photos and thoughts on wild food. Today, Jenny and Rick continue to hunt, fish, forage and cook in the Cornhusker State – Nebraska. Their recipes have appeared in numerous publications, including Petersen's Hunting, Game and Fish, Nebraskaland and North American Whitetail magazines.

The Nebraska Center for the Book awarded their book Hunting for Food: Guide to Harvesting, Field Dressing and Cooking Wild Game the Wildlife Honor Award in 2016.
Photo Credit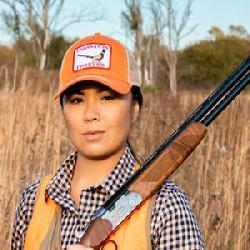 Jenny Wheatley
Visit artist website
Website: www.foodforhunters.com
Instagram: @foodforhunters
Facebook: www.facebook.com/foodforhunters